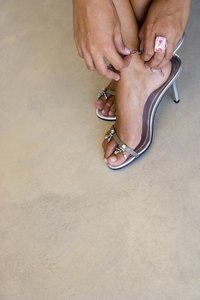 Cracked heels are unsightly and can be painful. When the skin on your feet is dry, the stress you put on them can cause them to crack. If neglected, the cracks can deepen and start bleeding. To avoid this, treat cracked heels as soon as you can. Instead of resorting to commercial foot treatments, you can save money and make your own treatments right at home.
Mineral Oil Soak
Because feet lack oil glands they easily get dry. To eliminate dry, cracked heels provide your feet with moisture before going to sleep. Soak your feet in a foot bath made with equal parts of lukewarm water and mineral oil. Avoid using hot water, because this dries your feet. Remove your feet after 10 minutes and massage the oil residue into them. Wear cotton socks overnight.
Banana Pulp Foot Mask
Bananas are known for their moisture content, which can help eliminate dry skin and cracked heels. A banana mask applied to your heels and feet will leave you with softer, smoother skin. Mash a ripe banana with a fork and apply the pulp to your feet. Wait 15 minutes before washing it off with lukewarm water. As an alternative, add the pulp of half an avocado to the banana.
Exfoliating Foot Scrub
A homemade foot scrub that moisturizes and gets rid of dry, thick skin on your heels is an ideal foot treatment. Grind 1/2 cup of rice to a coarse consistency. Add 2 tablespoons of honey to the rice. Apply enough apple cider vinegar to create a paste-like consistency. Soak your feet in lukewarm water for at least 10 minutes. Pat them dry and massage the scrub into them. The honey helps provide moisture while the rice and vinegar exfoliate the feet and remove dry skin.
Foot Moisturizer
Mix 1 tablespoon of petroleum jelly with the juice of a lemon to make your own overnight foot treatment. Before applying the mixture, soak your feet for 10 minutes in lukewarm water. Dry them with a towel and massage the mixture into your heels and feet. Cover your feet with cotton socks before going to bed. In the morning your feet will feel softer and with continuous use, your cracked heels will start healing.