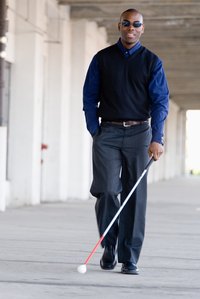 The Michigan State Disability Assistance program provides a needs-based cash benefit to individuals who are disabled or blind. SDA is also available to the caretakers of a disabled or blind person. The Michigan Department of Human Services payment standard is the basis for SDA payments. In 2011, the payment standard amount for a single person was $269. The cash benefit amount is the payment standard amount minus any countable earnings that the recipient receives.
Eligibility
Michigan uses disability status, assets and income to determine if an applicant meets the SDA program's needs-based requirements. The applicant also must be a resident of Michigan and a United States citizen or an alien with the right to reside in the United States. Cash assets cannot exceed $3,000. Money that is held in checking accounts, savings accounts and investment accounts are examples of cash assets. Countable income cannot exceed the benefit award amount.
Disability Determination
Michigan Department of Health Services specialists use the Social Security Administration guidelines to designate a person as disabled or blind. Applicants who receive disability-related Medicaid or Supplemental Security Income are disabled or blind for SDA purposes. SSI is a federal needs-based benefit for the aged, disabled or blind. A DHS specialist may deem an applicant as disabled if she resides in an adult-care or treatment facility. Another option is that the specialist may assign a disability or blind status if a DHS medical consultant issues an opinion that supports such a designation.
Countable Income
Countable income is the key to determining how much a SDA recipient receives. The income that they receive may come from wages, cash assistance from other public agencies, or money from friends and family. The income is either countable or not countable. Countable income will reduce the amount of the recipient's SDA award amount. Items such as food stamps, income tax refunds, and home energy assistance are not countable.
Net Award Amount
If a disabled person who is single receives $200 in food stamps, $100 in wages and a $500 tax refund, then he has $700 in income that is not countable and $100 that is countable. The SDA payment standard for a single person is $269 per month. Since the food stamps and tax refund are not countable, they will not affect the recipient's award amount. DHS deducts the wages from the recipient's SDA payment standard. This leaves a net award amount of $169.