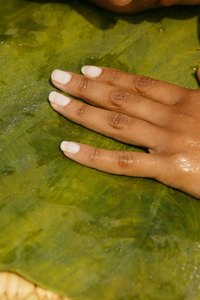 Fingernails consist of more than the part that is visible. The visible part of the nail is called the nail plate, which sits on an area called the nail bed. The cuticle is a thin layer of skin located near the base of the nail. Good health and proper care of the nails increase the chances of having nails that are less prone to thinning and cracking.
Age and Diet
As people age, their nails lose the natural oils that hold them together. The aging process dries out the nails, which is why the nails of older people are more prone to thinning and cracking. Another contributor to unhealthy nails is not eating a balanced diet. Failing to eat healthy foods often results in vitamin deficiency. This causes brittle nails, which can lead to cracking. In addition to a healthy diet, you should take Biotin vitamins and vitamins that contain iron.
Maintenance and Care
Daily care of nails is crucial to maintaining their health. Nails are weakened by excessive water and the chemicals in cleaning products. Wear gloves to prevent overexposure to harmful substances when washing dishes or cleaning the house. Avoid peeling off nail polish and biting nails. Limit the use of nail hardeners because their ingredients dry the nails and cause them to become brittle and weak. Don't use nail polish remover that contains formaldehyde or acetone. Apply moisturizer to the nails to restore natural oils. Good moisturizer contains lactic acid, shea butter, phospholipids, avocado oil, urea or lanolin.
Infection
Fungal infection is a common cause of fingernail problems. Fungus causes nails to become weak, brittle, or discolored. In extreme cases, the nail might totally dislodge from the nail bed. Treatment often requires a trip to the doctor and a prescription for antifungal medicine. Like fungus, bacteria also adversely affects the nails and can lead to loss of the nail.
Diseases
Various diseases can contribute to unhealthy nails. Psoriasis often begins in the nail and can cause the fingernail to detach from the nail bed. Thyroid disease and heart disease can also contribute to thin, cracked nails. Other diseases that affect the nails include lupus, lung disease, kidney disease, liver disease, arthritis, diabetes, melanoma, eczema and anemia.