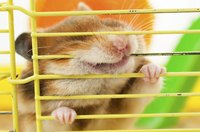 They're cute, tiny and relatively inexpensive. What's not to love about a hamster? Before you take the plunge and bring this little rodent home, weigh the pros and cons of keeping hamsters. A hamster can live between 2.5 and 3 years, which is great if you're not into commitments, not so much if you're looking for a longtime friend.
Hamster Pros
Hamsters are relatively undemanding pets. Provide your hamster with an adequately sized cage, a hamster wheel for exercise, toys, proper food and clean water and he should be content. His cage needs a good weekly cleaning. You can recycle cardboard paper towel and toilet paper tubes for your hamster's napping and playing pleasure. Feeding consists of a packaged hamster mix, supplemented with small amounts of fruits and veggies and access to timothy hay for roughage.
Hamster Cons
If you purchase a Syrian hamster, the most common kind, the animal must live alone. Put two Syrian hamsters together and they'll likely fight. That means if you have multiple kids who each want a hamster, you'll have to purchase separate cages, hamster wheels, food bowls and water bottles. You can keep dwarf hamsters together, but make sure they're not the same gender. Otherwise, you'll soon have lots of baby hamsters. Remember that hamsters are naturally nocturnal, so they're busy spinning their wheels when you're ready to call it a night.