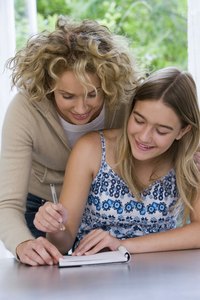 The Free Application for Federal Student Aid is the required form for applying for federal higher education student aid programs, including grants, student loans and work study programs. Most of these student aid programs are based on need, meaning that only those considered financially needy will be awarded them. A main purpose of the FAFSA is to ascertain which applicants are so in need.
FAFSA and EFC
The FAFSA requires the applicant to disclose detailed information about her finances. This includes information regarding income and assets, including monetary assets such as bank accounts. The U.S. Department of Education, which administers the financial aid programs, uses this financial information to arrive at the Expected Family Contribution. The larger the EFC figure is, the applicant is less eligible for financial aid. The smaller the EFC, the greater the eligibility. However, before calculating the EFC, the applicant's dependency status has to be determined.
Independent or Dependent
The student applicant's status determines whose financial information has to be included and how it will be treated in determining the EFC. If the applicant is considered dependent on his parents, financial information from both the parents and applicant will be used. An independent student will only use his own information and that of a spouse, if married. The main ways a student is considered independent for financial aid purposes are being married, 24 years of age or older, being a graduate degree student, an honorably discharged veteran or being the main financial provider of a dependent.
Monetary Assets
Bank accounts are part of the financial information that have to be disclosed on the FAFSA. If the student applicant is a dependent, all bank accounts belonging to each parent and the student are included. If the applicant is independent, only bank accounts belonging to the applicant and his spouse are considered. Most parents are allowed to exclude approximately $50,000 of such assets. Also, any monetary assets not excluded can only be assessed up to 5.64 percent toward the EFC. However, assets owned by the student can be assessed up to 20 percent. Therefore, bank accounts owned by the student should be minimized before filing the FAFSA.
Other Considerations
A large percentage of FAFSAs that result in a financial aid award are audited for verification. If false information was supplied or any required information omitted, the applicant and parents are subject to fines and even criminal prosecution. Bank accounts that are in retirement fund programs are fully excluded from EFC. Custodial college savings accounts are not counted as an available student asset for dependent applicants. Parents of dependent students, or independent students with children, with less than $31,000 of annual income are automatically given a zero EFC. Any bank accounts of such applicants are therefore not a consideration.