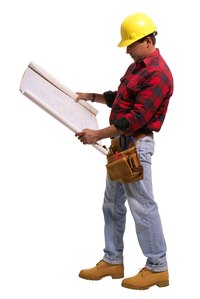 Contractors purchase liability insurance to protect against financial loss resulting from claims against the business for damages resulting from the business' products, services or work. Many contractors require their subcontractors to have liability insurance. The insurance coverage requirements, including dollar amounts and types of liability insurance, are often included in contractor-subcontractor contracts. The amount of liability insurance a subcontractor needs depends on the work to be performed, the level of risk, the extent of your liability and the contract requirements.
Subcontractors
The relationship between a contractor, subcontractor and client varies based on the needs and wishes of each party. Typically, a client hires a contractor, who hires a subcontractor. For instance, a computer technology expert hired to upgrade a company's computer systems hires an electrician to wire a computer room. A housing construction contractor hires a flooring specialist to lay carpet and wood floors. The subcontractor performs the work on behalf of the contractor, who is financially responsible for completing the job without damages. The contractor has liability insurance to protect his interests. Clients and contractors usually require subcontractors to have liability insurance as well, which affords another level of protection for the contractor and the client.
General Liability Insurance
General liability insurance covers the subcontractor if, while performing work for the contractor, he causes property damage or bodily injury. Liability insurance also covers personal injury, which is damage to a person's reputation or business image. The insurance pays for damages and legal expenses. One construction company requires a subcontractor to sign a contract that states that the subcontractor shall maintain liability insurance on all of its operations at the listed coverage amounts and with insurance companies that meet certain requirements and are approved by the client and the contractor. The contract requires the subcontractor to pay for his liability insurance.
Liability Insurance Types
Depending on the business type, subcontractors purchase one or more of the different types of liability insurance. Workers' compensation and employer's liability insurance, comprehensive general liability insurance and commercial general liability insurance are the three major types of liability insurance. Contracts might require the subcontractor to purchase a separate automobile liability insurance policy for work vehicles. Professional liability insurance might be required for subcontractors who perform professional services such as architectural design. Pollution liability covers the potential mishandling of hazardous or toxic materials, such as asbestos.
Coverage Amounts
The contract you sign with the contractor will usually list the limits of liability. One such contract lists a limit of $1 million for employer's liability insurance, limits of $2 million per occurrence and $1 million aggregate for comprehensive general liability insurance coverage and limits ranging from $1 million to $2 million for commercial liability. Automobile, professional and pollution liability coverage limits are listed as $1 million per incident. An insurance professional can help you determine the amount of liability insurance you need as a subcontractor.