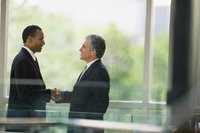 Partnerships can be owned by two or more individuals and can be privately or publicly owned. Public partnerships allow the business to be divided among a handful of public shareholders, while the private partnership is owned by a handful of individuals. Weighing the benefits and risks of each can help you determine a direction for your business.
Benefits of Public Partnerships
Public partnerships allow the company to accumulate more capital by reaching out to new partners who will provide money for a stake in the business. Likewise, they spread the risk of a business failure to more individuals while creating incentive for partners to be invested in the company's success, as the value of their shares will be correlated to business performance. Going public allows partners to turn some shares into liquid assets for debt repayment or expanding the business. If the business were to collapse, public shares are much more easily disposed of than private shares.
Disadvantages of Public Partnerships
To make your partnership public, you will incur more financial obligations than if you were to remain private. For instance, your partnership will acquire legal fees to complete the process of going public as well as recurring legal, accounting, printing, and travel fees that would otherwise be spared. Your partnership's net returns, which is your profitability after accounting for costs, will be lower than if you had remained private. As a result of the Sarbarnes-Oxley Act, you will need to disclose more information about your business practices and financial reports so possible shareholders can make an informed decision about your company.
Advantages of Private Partnerships
Private partnerships allow for greater control over business decisions, as the company is retained by few, often well-acquainted individuals, such as family members or friends. In private partnerships, you have more say over how equity is divided. Unlike a public partnership, you have the freedom to decide whether to have one or a few leading partners who have more say and ownership than others. In private partnerships, you can select partners whose skills complement your own so you have a formidable team. Or you can reduce your risk by forming a private limited partnership, which will limit each partner's liability if something were to go wrong.
Limitations to Private Partnerships
Private partners may find it difficult to obtain liquid capital once the business grows past a certain point or at the beginning stages. Without the flow of funds present in public partnerships, it can be more challenging to reinvest in the business or expand by hiring more employees, gaining more inventory or opening new branches. In limited partnerships, each partner shares liability. If something goes wrong, all partners are financially or legally responsible. Each partner is accountable for his actions and for the business decisions made by the other partners. In the case of a serious disagreement or bad business decision, private partnerships can be more difficult to leave than a public partnership.