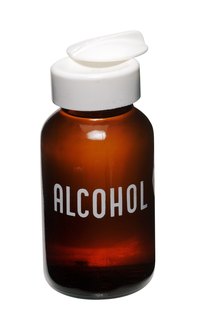 Isopropyl alcohol is a flammable chemical compound with a flammability rating of "3," for "severe fire hazard," according to the Occupational Safety and Health Administration. If you plan to burn isopropyl alcohol, you might wonder whether or not the alcohol leaves a residue once the flames burn out. The issue of residue may determine what you do with the alcohol that you burn.
Amount of Alcohol
The amount of alcohol present in isopropyl alcohol varies. One type of isopropyl alcohol may contain 50-percent alcohol, while another contains 90-percent alcohol. The percentage relates to how much alcohol is in the compound versus how much water is present. A 50-percent alcohol compound has more water in it than a 90-percent alcohol compound. When more water is present in the isopropyl alcohol, the alcohol will not leave a residue when it burns. However, if there is more alcohol present — such as 70 to 90 percent — it will leave a slight residue in the form of an oily or greasy stain.
Elements
What you burn with the isopropyl alcohol impacts whether or not a residue is left behind after the flames burn out. If you burn paper that is dipped into isopropyl alcohol, such as a dollar bill, the alcohol will burn at a lower temperature than that of the paper. Ultimately, the dollar bill is unharmed by the time you blow out the burning alcohol. Elements that burn at higher temperatures than the isopropyl alcohol will not cause the alcohol to leave a residue.
Uses
Isopropyl alcohol can be used as a sanitation compound to sterilize medical or other equipment. For example, to sterilize a piece of medical equipment a doctor might soak the metal tool in isopropyl alcohol and burn the tool slightly to make sure the alcohol dissolves all of the bacteria or germs that are lingering. The flame is put out and the medical tool is sterilized. Isopropyl alcohol can also be used for generic housecleaning and for automobile maintenance.
Warning
Toxic gas, such as carbon monoxide, can be released when you burn a fire with isopropyl alcohol. If you are burning isopropyl alcohol for a science experiment or other reason, have the appropriate personal protective gear handy so that you can protect yourself from health risks. For example, a face mask can protect your lungs from inhaling the fumes, and goggles can protect your eyes in case the fumes are strong and irritating.