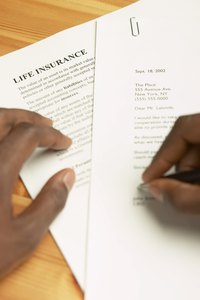 Adjustable comp life plans, also known as adjustable rate comprehensive life insurance plans, allow policy holders to increase or decrease the amount of their life insurance coverage as their life circumstances change. As with any type of insurance investment, there are pros and cons to this form of coverage.
Insurance Coverage Needs
Most people's insurance coverage needs vary throughout their life. For example, a married couple with young children and a 30-year home mortgage may opt for a high-coverage comprehensive life insurance policy. The advantage of this decision is that the couple can be assured that in the event of their deaths, money will be available to pay off debt and provide for the care of their children. The adjustable feature also offers the advantage of allowing the couple to decrease their coverage as their children become older and less dependent. The disadvantage of this approach is that the premium costs for this form of coverage will typically be higher than simple term life insurance.
Age and Health
Life insurance policies generally cover policy holders during the time period outlined in their policies. When coverage expires, or when a policy holder opts to make an adjustment to the terms of his policy, he typically will be required to reapply for coverage. The advantage of this decision is that the policy holder may be able to time the application to take advantage of special promotions or discounts offered by his insurance company. The disadvantage is that if the policy-holder's health has declined or he has entered a higher age bracket, the increase in the cost of premiums for the adjusted coverage could be significant.
Types of Comprehensive Coverage
An adjustable comprehensive term life insurance policy is often called a temporary life insurance policy. The disadvantage of this type of policy is that at the end of the policy term, the policy has no further value and the insured is required to reapply for new coverage. Adjustable or variable comprehensive life insurance coverage is more expensive than a term policy. The advantage is that a portion of each premium payment is placed into an investment account that the policy holder can draw from as needed.
Convertible Policies
Some adjustable comprehensive life insurance policies are convertible, in which the insurance carrier allows the policy holder to convert from one form of coverage to a different form of coverage during the life of the policy. The advantage of this approach is that it allows a policy holder to adjust insurance coverage in a variety of ways as life circumstances change, with a guarantee of continuing coverage regardless of changes to health. The disadvantage is that this form of coverage typically carries higher premiums than non-convertible policies.