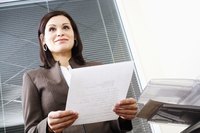 The HP LaserJet 4050 N printer, designed for businesses and offices, features two trays that support various paper types. If you insert the incorrect paper type in a tray, or if the control panel is set to print to a different paper type, you receive the "41.3 Unexpected Paper Size" error. Reinserting the paper and changing the control panel settings fixes this error.
Reload Paper
The HP 4050 N has two printing trays. The first, called Tray 1, supports 100 sheets of letter-sized printer paper, 20 index cards or 10 envelopes. If you have the incorrect paper size in the tray, you may receive the "Unexpected Paper Size" error. Open the tray door, located behind the printer. Pull out the extension and adjust the side guides to the width of the paper. If the paper will not fit correctly, you cannot use it with Tray 1. Tray 2, located beneath Tray 1, supports 500 sheets of letter, legal or A4 paper. Insert the desired paper and slide the side guides forward until they match the paper width. Slide the tray back into the printer until you hear a "click."
Select Correct Paper Size
When you properly insert paper, the printer usually detects the paper type and size for you. If "Unexpected Paper Size" remains on the display, however, you need to manually adjust it to the correct paper size. To set the paper size, press the "Menu" button. Press "Item" until you see the Paper Size menu. Press "- Value +" to scroll through paper sizes. When you find the correct paper size, press "Select" to save it.
500-Sheet Tray Settings
The 500-sheet tray has a knob that allows you to change the paper size. Even if you change the paper size via the control panel, if you want to print from the 500-sheet tray, you also need to change it using this knob. Locate the knob on the right side of the tray. The knob lists various paper sizes. Turn the knob until the arrow points to the inserted paper size.
Restart Priniting Job
After you properly insert the paper and set the correct paper size in the control panel, press the "Go" button. In most cases, the printer will attempt to reprint the job. If this does not happen, or if you want to stop printing, press the "Cancel Job" button. Restart the printing job manually.