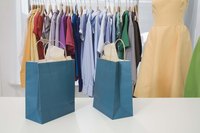 Exhibiting fashion merchandise at a trade show or exposition can be overwhelming, especially if it's your first time doing it. You certainly realize how important it is for your booth to get noticed and project the right image. Fortunately, you can decorate a fashion booth that intrigues potential clients with some careful planning and a strong design concept.
Booth Size and Location
Find the exact dimensions and location of your booth in the exhibition venue. Consult your receipt or other registration documents for this information; alternatively, you can request it from the event organizers. Knowing the size and location of your booth beforehand will help you utilize your space properly. The ideal configuration of your tables and display items will depend on where your booth is situated in the traffic flow. To ensure that you get the best location, reserve your space as early as possible.
Display Tables
Set up one or more folding tables in your booth and drape quality tablecloths over them, preferably in a neutral color or with a graphic theme that relates to your merchandise. Ideally, the tablecloths should cover the bulky legs underneath the table. This will lend an upscale look to your booth and focus attention on your merchandise rather than the furniture or display apparatus.
Promotional Materials
Display a banner with your logo or the brand name of your designs. Position a board near the tables to hold brochures and other information about your company; include a press kit or fact sheet about your products, as well as a stack of business cards. Be sure to show off any favorable media reviews of your designs. Use professionally printed materials for these display items, if possible. If you have video clips or footage of models wearing your designs, bring a television and a DVD player to give customers a multimedia experience. Consider offering fabric swatches or promotional items for people to keep after visiting your booth.
Garment Racks and Shelving
Set up a garment rack or two for merchandise samples or products that you are currently selling. Get creative with the available space around the booth, using plastic pegs or metal hooks to show off your items. Use freestanding shelves or paint a ladder in a vivid yet complementary color to create interesting shelving for shoes, handbags, belts and other accessories. Position a large mirror on the wall to reflect the merchandise and give the illusion of a bigger space.
Finishing Touches
Put the finishing touches on your displayed merchandise, keeping in mind that every detail matters. Consider adapting ideas from your boutique windows or other window displays that you find inspirational. Make sure that your merchandise is well-lit and visually appealing; when people walk into your booth, they need to be immediately drawn in. You can attract customers and communicate your brand identity with powerful visual elements.