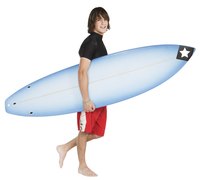 Originally sparked by Hawaiian surfers during the 1950s, the surfer style of 2011 combines a love of activity and adventure with practicality and comfort. Clothing companies inspired by surfer gear, such as Quicksilver, Volcom, Tilly's and Reef, made the surfer style fashionable and accessible to individuals living outside the coast of California and Hawaii. Surfer style can touch every aspect of your wardrobe, from hair to shoes, and just because it's snowing outside doesn't mean you have to relinquish your beachy look.
Layer Your Surfer Clothing
Combine several layers of light-weight, surfer-style clothing to stay warm during the winter months. Start by wearing a high-neck long-sleeve rash guard -- a tight-fitting nylon/spandex shirt usually worn under a wetsuit. The snug fit and synthetic material of a rash guard is your insulation base. In extra cold weather, boost your insulation by layering a short-sleeved rash-guards or beachy graphic T-shirt over your long-sleeved one. Cover your rash guards with a loose-fitting hoodie sweatshirt or knit cover-up.
Keep Your Surfer Hair
Don't let your iconic summer do vanish just because you can't swim in the ocean. The classic surfer hairstyle combines loose, segmented locks with the wavy texture of saltwater soaked hair. Maintain your surfer hairstyle during the winter months by patting, not brushing, your hair dry and finger combing sculpting gel through your damp tresses. Scrunch the bottom 4 inches of hair to create more body. Don't comb or touch your locks and let the textured strands fall down your shoulders.
Accessorize Surfer-Style
Adorn your wrists or neck with simple puka shell jewelry or strands of braided leather. The materials used for surfer-style jewelry are durable in construction and neutral in color. Don a pair of skinny-fit, surfer-style stretch jeans with a loose-fitting, V-neck cover-up and a single mother-of-pearl shell pendant necklace for a delicate, seasonably appropriate surfer ensemble. Carry your necessities inside a winter-themed beach bag or surfer backpack.
Surfer Shoes
Flip-flops aren't very practical in the snow. In cooler climates, without snow, layer socks inside canvas lo-tops in beachy colors. For those braving white, winter wonderlands, remember that surfer style is about more than just summer and the ocean. Surfer style embraces adventure and nature. Shaggy, natural-fiber boots support this style while keeping your tootsies toasty. Pair a casual skirt and hooded sweatshirt with faux-suede boots decorated with woolen tassels. Top it off with slouchy beanie hat or cute animal-ear faux fur hat with extended ties.