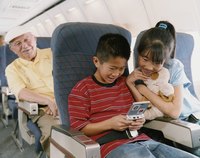 You may have decided to plan a vacation with just you and your grandchildren. This special opportunity allows for one-on-one time and gives their parents a much-needed break. You and your grandchildren might have to take a flight to get to your desired destination. Your flight can be a smooth, safe experience from boarding to landing, with insights from their parents and by planning fun activities.
Before the Flight
Take the appropriate precautions before you and your grandchildren board the plane. A grandparent should have a signed, notarized note from the children's parents stating that the grandparent has permission to travel with the grandchildren, suggests the U.S. Customs and Border Protection website. The note should give permission for the grandparents to receive any medical care for your grandchild if necessary, according to former flight attendant Beth Blair in her Grandparents.com article. Additionally, ask for your grandchildren's insurance and prescription cards.
Fun on the Flight
A long plane ride allows for a bonding experience with your grandchildren. Activities lessening the generation gap can be ideal for your trip. Plan activities that can appeal to both generations and that you both enjoy, according to the TravelSense.org article, "Traveling with Grandkids (Without a Nap)." Perhaps you both can create a paper family tree craft. Alternatively, pull out a surprise item for them to use on board, according to Southwest.com's article, "Navigating Air Travel."