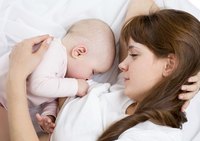 As a new mom who is breast-feeding, you may wonder whether your baby is getting the nutrition he needs for healthy growth and development. Sometimes your pediatrician may recommend supplementing a breast milk diet with a liquid multivitamin; D-Vi-Sol and Tri-Vi-Sol are two that are commonly used. You should consider your baby's diet, and also what you are eating, when choosing between them.
Breast-feeding Exclusively
The most important thing you can do as a breast-feeding mom is to eat a healthy, balanced diet. Doing so ensures that your breast milk is equally nutritious for your child, and in most cases, multivitamin supplements aren't necessary. However, the Centers for Disease Control and Prevention recommends that even moms who eat a healthy, diverse diet supplement with vitamin D if their baby is exclusively breast-fed or drinking less than 1 liter of formula each day. A 1-milliliter dose of D-Vi-Sol provides the daily 400 international units of vitamin D recommended by the American Academy of Pediatrics with no other vitamins.
If Your Baby Needs More Vitamins
Tri-Vi-Sol is a multivitamin supplement that not only provides the recommended vitamin D for breast-fed infants, but also vitamins A and D. If you're introducing solid foods along with breast-feeding and your baby is a picky eater, or if you feel your own diet, and therefore your breast milk, isn't as nutrient-rich as it can be, ask your pediatrician if this multivitamin can help to balance out any missing nutrients.
Giving Your Baby Her Vitamins
Both D-Vi-Sol and Tri-Vi-Sol are liquid vitamin supplements. Both also come with a dispensing syringe. To measure the full dosage, or amount recommended by your pediatrician, place the syringe in the bottle liquid, and draw back the liquid to the dosage line that's marked on the syringe. You can dispense the vitamins directly into your child's mouth, toward her cheek. If she doesn't like the taste, try mixing it with breast milk, formula, juice or foods like cereal or applesauce.
Getting Too Much
If you're considering adding a vitamin supplement to your child's diet, it's best to talk to your pediatrician first to make sure you're adding the right one and the right dose. Most extra vitamins are excreted in the urine, but vitamins A and D are stored in the body. In the recommended 1-milliliter dosage, multivitamins like Tri-Vi-Sol and the vitamin D supplement D-Vi-Sol should be safe for most healthy babies to take, but if they're drinking formula or getting another major source of vitamins from elsewhere in their diet, they might be getting too much.