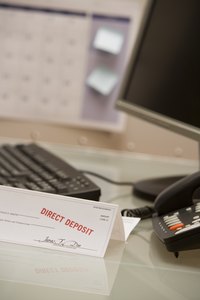 Most businesses use automated payroll software and systems in order to manage the payroll requirements of their business. SAP is a business management tool that allows you to effectively configure and manage all aspects of your business. Payroll configuration and management is one of the key modules within the SAP platform. The SAP-Payroll module contains many features and shortcuts that will make managing employee compensation easy.
Payroll Software Functions and Schemas
The logic for computing payroll amount is done by dozens of formulas contained in the SAP software. Functions perform general processing – such as calculating payroll taxes on a given set of wages, reading wage types from specific infotypes, calculating premiums, and storing the results of payroll calculations. A schema occurs when several functions are operating in a series. A schema is just a collection of functions executed in a specific order – each one passing its results on to the next -- such as pre-tax deductions, then withholding taxes, then post-tax deductions, and so forth.
Wage Types
The functions and schemas that you set up within SAP are processed for employees' wages based on specific wage types, or amounts. The most typical use of a wage type is to store the amounts of earnings, deductions and taxes in an employee's paycheck. A person's base pay is stored in a wage type, the amount of their elective deductions is stored in wage types, and their taxable wages & taxes are stored in wage types.
Executing and Auditing Payroll
When it is time to execute payroll, you will call up the schemas and wage types for the appropriate area and time period. You will be able to compile an aggregate log and statement using the "Start Payroll" button to view the results of the various payroll entries. You can also set the payroll to "execute in background," so that it is not reliant upon your manual entries to output the compiled results.
Account Transfers
Once you have finished compiling the various wage types and you have the cumulative amounts you can begin executing account transfers as needed. The Data Medium Exchange (DME) allows you to submit transfers to employees' bank accounts, as direct deposit of their net wages into the receiving financial institutions. You can also select "Create a Posting Run" in order to process the amounts collected for various deductions -- federal taxes, state taxes, insurance premiums, retirement plan contributions, and other voluntary employee contributions.