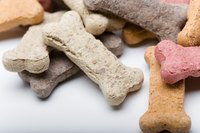 Whether you're rewarding your pet's good behavior or just showing him some love with an edible gift, most dogs love a tasty dog treat. Rather than stowing away dog treats in a boring box, crafty animal lovers can sew their own dog treat bags for a creative, attractive way to keep Fido's snacks safe.
Design
Design a dog treat bag that functionally and aesthetically meets your needs. To determine the best dimensions for the bag, consider how you will use it. For instance, a larger 12-inch-by-9-inch bag provides ample room for storing several packages of dog treats. However, a smaller, portable 5-inch-by-6-inch dog treat bag is better suited for carrying a handful of treats to reward the pup while on a walk.
Fabric
Limit the search to fabrics that are at least moderately durable and can withstand the force of being tossed into cupboards or purses. Weak fabric will wear out with use. Thin fabric also runs the risk of letting out the tempting aroma of the treats and encouraging the dog to chew through the bag. Additionally, find fabric that is easy to wash. Durable cotton or canvas bags can easily be thrown in a washing machine to clean out crumbs and dirt and keep the dog treat bag looking fresh and clean. Also, use a fabric to show off your creativity. Stick to a favorite color or pattern, or show off some canine pride with a doggy-printed textile.
Ties and Closures
After sewing a pouch out of two pieces of fabric, keep the dog treats fresh and secure by sewing in a tie to the top edge of the bag. Create a drawstring by rolling down the top edge about a half inch, sewing it almost all the way around, and then threading a ribbon through the space. Pull the drawstring to tighten up the top of the bag and keep the dog treats safe. Alternatively, sew a zipper, buttons or velcro to the top.
Decorations
Let your creativity shine by adding some final decorative touches to the sewn dog treat bag. Personalize the bag by writing the dog's name in iron-on letters, stencils or fabric paint. For a glitzy bag, use glue to adhere jewels, sequins or glitter to the outside of the bag. Other decorations, such as rick rack, ribbon, lace and fabric paint, help transform an ordinary bag into a piece of artwork you'll be happy to pull out whenever the dog deserves a treat.