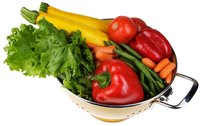 Nutrition assistants, also called assistants to dieticians, perform support services in the culinary field. Nutritional assessments and dietary assessments are two typical functions of the job. The design and prescription of a dietary plan for individual patients or clients is also part of a nutritional assistant's duties. Salaries for this position have a $16,000 range depending on factors such as experience, education and location.
Salaries
According to the United States Bureau of Labor Statistics, the median annual wage for a dietetic assistant was $27,960 in May 2010. Those in the 75th percentile made $36,260 and those in the lower 25th percentile made $20,980. Median hourly wage for the position in 2010 was $13.86.
Benefits
Career benefits including health insurance is typically part of the salary package for a nutrition assistant. In addition, many assistants receive vision insurance, disability protection and retirement plans. Some employers also offer perks such as tuition reimbursement or childcare assistance. In this age of technology, nutrition assistants are sometimes afforded the ability to work from their homes and telecommute.
Education
Many nutrition-assistance positions require a minimum two-semester certificate from a community college. Other companies or entities require a college degree in nutrition. Nutrition assistants work in both private and public sectors, such as nursing homes, and government-funded programs, such as Women, Infants, and Children.
Job Growth
Average job growth of 9 percent is expected from 2008 until 2018, according to the BLS. Applicants who go beyond the minimum certification process and obtain a bachelor's or master's degree will have an increasing advantage in the job market. Doctor offices and outpatient facilities will have the largest growth potential.