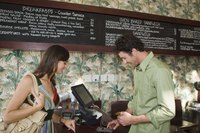 Just as weather forecasting can let you know if you need an umbrella when you leave the house, sales forecasting can help you better determine whether your business outlook is a sunny or dreary one. While sales forecasts are merely predictions of likely sales and offer no guarantees, many business owners, including restaurant owners, use sales forecasts to better anticipate needs and order products as well as identifying potential problems they may need to remedy.
Existing Business Calculations
Some restaurant patrons return to the same establishments week after week, unable to get enough of the tasty treats on the menus. Restaurants that have these repeat customers can use retention statistics to determine the likelihood that these die-hard patrons will continue to frequent the restaurant. To engage in this type of forecasting, restaurants must identify and monitor repeat customers and chart their visits, identifying patterns. If they discover patterns, for example, if the restaurant notices that some frequent customers visit more often during cold-weather months, they can use this information for forecasting purposes.
Growth Indications
Up-and-coming restaurants often use growth statistics to better forecast their future sales. To determine growth statistics, restaurant owners must monitor their sales and complete calculations, determining how much their sales increase each month. If they notice a relatively consistent pattern of increase, for example, if the sales appear to grow 5 percent each month, the restaurant owner can use this growth as a standard, assuming the same growth for subsequent months and projecting several months into the future with this figure.
Seasonal History
Because the weather has an impact on consumers' appetites, restaurants often experience changes in sales as the seasons shifts. A restaurant that offers belly-busting comfort food may, for instance, lose some customers come warmer weather as many consumers shift their focus to dieting and fitting into their skin-baring summer clothes. By reviewing sales data from the same season of the year prior, restaurants can better anticipate weather-related sales shifts.
Trends Research
Restaurant owners just entering the arena, with no personal data on which to base their forecasting, can use trend data to project their potential sales. For example, if a restaurant owner seeks to open an Asian fusion restaurant, he can research this industry pocket and gather sales information on other restaurants of his planned type in similar communities. He can then use this information to forecast his sales, giving himself a better idea as to what sales figures he can realistically expect.