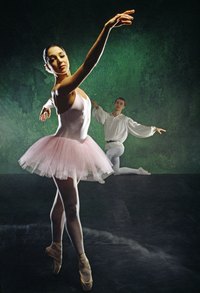 Choreographers, whether they are wowing Broadway audiences with flashy musical chorus sequences or creating the pas de deux for the leads of a ballet company, tell stories through the art of dance. To be masters of this form of storytelling, they first must learn how to perform the art. Just as a composer learns to sing or play an instrument, the choreographer begins training by learning how to dance and how to move. After those basic skills are learned, they expand from performance to the creation and planning stage.
Dance Training
Choreographers are best served when they have a wide range of dance experience. However, most will specialize in one particular area depending on where they wish to work. For those seeking commercial work, a background in musical theater is helpful. For those planning to open their own studio, a background in modern dance or ballet will be more useful. Other choreographers might learn jazz dance, acrobatics or gymnastics. Most dancers begin their training at a very young age. Girls tend to start around age 4 or 5 while boys tend to start a little later, sometimes as late as their teens.
Dance Education
While participation in dance companies and lessons with private dance teachers provide a choreographer with the appropriate dance training, additional education contributes to a successful career. Many universities offer degrees in dance with coursework that focuses on choreography. Art appreciation that includes dance and movement provides a choreographer with the background skills and knowledge of the art form, its intellectual rigors, the most recent innovations and its history. Some dance conservatories and performing arts schools also offer this education.
Choreography Education and Training
A choreographer is an artist and, like most artists, undergoes training that is practical in nature. While dance training provides a choreographer with the skills to tell a story, and the arts education fleshes out the elements of storytelling, it is the practical work with dancers and other choreographers that provides the bulk of a choreographer's education and training. Choreographers work in dance studios and theaters, learning how to move people and how those movements tell stories and communicate ideas. They learn how to communicate these moves to dancers and how to record them for others to use.
Certification
The major dance associations do not grant certifications for choreographers, nor is certification a requirement to get jobs in most places. Typically, only secondary schools require dance teachers to be certified. However, two-year and four-year educational institutions, conservatories and dance studios grant their own individual certificates and certifications as a way of providing choreographers with credentials. Choreographers can also earn certification as a dance teacher or join the professional union, The Stage Directors and Choreographers Society. The National Dance Association offers third-party evaluations of choreographers to dance faculty and students as part of its "Choreography Evaluation Project."