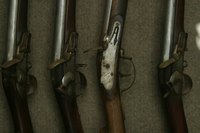 Congress enacted the Gun Control Act of 1968 in an effort to keep firearms out of the hands of criminals. The GCA and subsequent amendments define the requirements for buying, selling, manufacturing and importing firearms, ammunition and destructive devices. Responsibility for enforcing the act falls to the Bureau of Alcohol, Tobacco, Firearms and Explosives, a division of the U.S. Justice Department. Although the GCA requires firearms dealers to maintain their businesses in permanent structures, it does not forbid people from basing their businesses in their homes. In most circumstances, individuals who want to sell firearms must obtain a federal firearms license, or FFL, but exemptions for the requirement do exist.
Antique Guns
If you deal only in antique guns, you do not need an FFL for interstate shipments, although you are still subject to any state or local laws. The guns must be manufactured on or before Dec. 31, 1898. Antique firearms include percussion cap models, flintlocks and matchlocks produced before 1899, along with modern replicas of these firearms as long as they do not use conventional centerfire or rimfire ammunition currently available in the U.S.
Personal Collections -- Firearms
Collectors who occasionally purchase, sell or trade firearms as a hobby or who liquidate some or all of their personal collections do not need an FFL. The federal law defines individuals "engaged in the business" as those who do so with the objective of realizing a profit or earning a living through regular trade in firearms. Individuals who do not meet the definition of "engaged in the business" are not subject to the federal law.
Personal Collections -– Curios and Relics
A licensed collector is one who sells, acquires or collects items deemed curios or relics only. Although the applicant must still obtain a federal license, the fee is much lower than that of a dealer's license. At the time of publication, licensed collectors paid $10 per year, and dealers paid $200 for the first three years and $90 for subsequent renewals. To qualify as a curio or relic, the firearm must possess some quality other than its use as a weapon that makes it collectible; be certified by the federal, city or state curator of a museum exhibiting firearms that the item is of interest to the museum; be a minimum of 50 years old; or be worth substantially more because of their rarity or novelty, or because they are associated with a particular historical event, person or period.
FFL Requirements
To qualify for an FFL, applicants must be at least 21 years old and a U.S. citizen or legal alien. Applicants cannot have received a dishonorable discharge from the U.S. military, renounced his U.S. citizenship or be under a court-issued restraining order. A prior conviction of any crime punishable by incarceration for more than one year is a bar to eligibility unless the individual was subsequently pardoned. Applicants who have been judged mentally deficient or committed to an institution for psychiatric or mental problems are ineligible. Fugitives from justice and addicts or users of controlled substances cannot receive an FFL. A conviction for domestic violence makes applicants ineligible, even if the conviction was considered a misdemeanor.
State and Local Regulations
The GCA applies only to interstate activities. State or local regulations differ, and even if an individual is not required to obtain an FFL, he may still be subject to local or state licensing requirements. Section 478.58 of the GCA states that an FFL does not allow the licensee to violate any state or local law, nor does compliance with state and local laws permit the licensee to violate federal law.