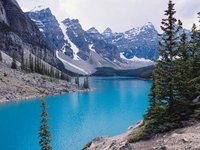 Elevation refers to how high above sea level a particular location is. Changes in elevation affect the weather in several ways, from temperature to precipitation, which is important to consider when traveling or moving to a new region of the country or the world.
Temperature
As elevation increases, the temperature falls. In part, this is because the atmosphere is heated from the ground up as the sun's energy is re-radiated from the surface of the earth; the farther you are from the surface, the colder it gets. Additionally, the air pressure at higher elevations is lower, which means air molecules move more slowly, causing temperatures to drop. The rate at which the temperature decreases at higher elevations is called the lapse rate. It averages a 3.5 degree Fahrenheit drop in temperature for every 1,000 feet you climb.
Winter Weather
Winter months often produce more snow at higher elevations. Low-lying clouds or fog are also more common at higher elevations, particularly during colder months. At higher latitudes, such as in Alaska, the relationship between elevation and temperature can be reversed in winter. This is because frigid air sometimes collects at the base of a mountain, so it's actually warmer at higher elevations.
Region
Regions closer to the equator have warmer temperatures than those closer to the earth's poles. This affects weather patterns even at high elevations. For example, during summer in Colorado, many people hike high mountains without a lot of cold weather gear, but hikers in Alaska may still have to bundle up as they move toward the peak. Winters in the Mexican mountains are likely less severe than those in the Swiss Alps because they are in a warmer climate.
Wind
The higher you go, the windier it gets, especially when it is colder, which is something to keep in mind if you enjoy hiking in the mountains. Wind also plays a role in how the weather changes at higher elevations. When wind flows up the side of a mountain, it causes an increase in moisture, producing more precipitation in the form of sleet, hail, rain or snow. This phenomenon is called the orographic effect. As the wind moves down the other side of the mountain the moisture drops, causing drier weather, a condition referred to as the rain shadow effect.