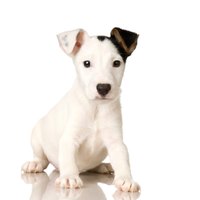 A whole world of doggie treats exists for your Jack Russell terrier, not to mention other non-doggie foods that can be given as treats. Not all treats are the same, however. Picking good treats for your Jack Russell terrier, a hunting dog with strong jaws, isn't difficult as they can enjoy a range of different treats -- in moderation, of course.
Pupperonis
Pupperonis are a soft dog treat produced by Del Monte Corporation. Pupperonis are offered in a range of flavor options including Original Beef Recipe with Cheddar Cheese, Original Beef Flavor, Original Bacon Flavor, Tender Soft Chicken Flavor, Lean Beef Flavor, Tender Soft Jerky Beef Flavor, Ribs flavor and Oven Roasted Chicken Flavor.
Hot Dogs
Hot dogs are the delicious Fourth of July barbeque standard and the eponymous street vendor food enjoyed by people everywhere. Jack Russell terriers can enjoy hot dogs as a treat too. Try to find organic hot dogs in order to keep preservatives out of your dog's system.
Snausages
Snausages is a soft dog treat that comes in five different varieties: Snausages in a Blanket, Snausages SnawSomes, Snausages Paw Prints, Snausages Party Sack and Snausages Breakfast Bites. Like Pupperonis, this treat is produced by the Del Monte Corporation.
String Cheese
Not just a school lunch addition anymore, string cheese can be used as a soft treat to reward your Jack Russell terrier. Like hot dogs, string cheese is a treat best given to a lesser degree than regular dog treats.
Dentabone
Dentabone is a hard dog treat produced by Pedigree formulated to improve dental health through tartar control. According to the Pedigree site, tooth loss due to tartar build-up is a problem that currently affects 80 percent of the world's dogs. Giving your Jack Russel this treat can assist in keeping his or her teeth in better condition, which in turn helps to prevent him or her from loosing teeth uneccessarily.
Milkbone Biscuits
Milkbones are another dog treat that is good for Jack Russell terriers that is produced by the Del Monte Corporation. Milkbones are offered in five flavor options which are Original Biscuit, GravyBones Dog Biscuits, Original Puppy, Original Senior and Flavor Snacks Dog Biscuits. Two "mini" options exist -- Mini's Flavor Snacks Dog Biscuits and Mini's Original Dog Biscuits -- which are smaller versions of the same flavors.