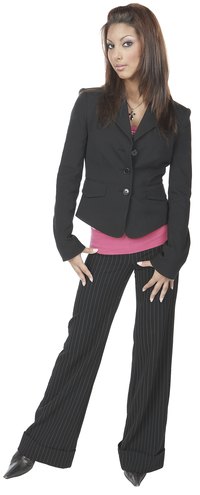 When you wear black pinstripe pants, you are making a statement. Pinstripes tend to express elegance and sophistication with a conservative flavor. The tops you choose to wear with pinstripes can convey four different approaches: cohesiveness, contrast, rebellion and casual. Choose your tops according to how you feel about these four options, and according to how others will view you in any given situation.
Cohesiveness
If you want to wear a top that goes smoothly with your black pinstripe pants, wear a tailored button-down shirt. White is the most conservative choice. Button all the way up to but not including the last button on the shirt. For an ultra-elegant look, wear a solid black button-down shirt. Don't wear a patterned shirt for a conservative look of cohesiveness. Mixing patterns is not a conservative approach.
Contrast
If you want your top to provide contrast with your black pinstripe pants, wear bright solid colors. You can wear a collared or crew-neck shirt in a knit. Explore bright colors like red and even pink. Red will express vitality, whereas pink will express femininity. You can go with a solid blue for a contrast that is calmer. Yellows are most often worn in casual wear, so they may not be the best choice to go with pinstripes. Also avoid fluorescent colors, because the contrast can be too strong and give the impression of poor taste.
Rebellion
If you want to make a rebellious statement, choose a patterned top to wear over black pinstripe pants. You can convey a sense of coordination by wearing a pattern that picks up the color of the pinstripes. Don't choose a pinstripe pattern for the top. Instead go with a pattern that has curves or circles that will contrast with the straight pinstripes. A subtle monochrome paisley can work. Flecks and sequins may also provide a little flair without being overpowering. Look for black tops with patterns that are not too pronounced.
Casual Vs. Formal
If you want to try something completely different, try a solid T-shirt covered by a black jacket. This will provide a casual statement to counter the formality of the pants, and the jacket will tie it all together. The T-shirt can be a V-neck or a crew, but should not be a sportswear garment. The idea is to look dressy and casual at the same time. Avoid T-shirts with logos or writing, because these will take the eye away from the pinstripe and cause confusion in your look.