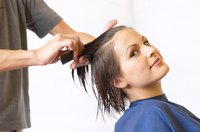 The messy (but cool) shag haircut first came into vogue in the early 1970's, when Jane Fonda sported the style in the movie "Klute." Unlike certain other 1970's fashion trends, however, the shaggy haircut has evolved with the times and remains a popular style choice. While there's more than one version of the shaggy haircut, you definitely must have straight or loosely wavy hair to pull off this layered look.
Shaggy Haircut Basics
In the 1960's women had neatly-coiffed hair, sometimes a bouffant – think of Jackie Kennedy's hairstyle. The shaggy haircut was a rebellion against this polished look and quickly made a splash because of the short, uneven layers and general unkempt vibe. A shag is achieved by cutting strategically placed short layers throughout, including the bangs – in fact, bangs are an essential component of this haircut. Earlier versions of the shag featured longer hair in the back. This is too "mullet-like" for today's standards, so modern shaggy haircuts have layers that are more even in length.
Short and Shaggy
The short and shaggy haircut offers the ultimate in low maintenance care. It's also surprisingly versatile. Depending on what styling products you use, you can create a spiky appearance, like Tina Turner, or something softer for a pixie look. A key to getting a flattering short shag is to work with a stylist who understands your face shape, and can create layers to highlight your bone structure. For example, a square-shaped face can be made to look softer with longer layers around the face.
Longer Shaggy Looks
This is the look that Jane Fonda made famous, and what most people think of when they think of a shaggy haircut. The original 1970's shag was a bit more choppy and uneven – think about the disproportionately long back layers of David Cassidy and Florence Henderson. Modern stylists know the importance of more gently gradated layers, however. Keep in mind that while a shorter shaggy haircut can be styled conservatively, there's something about the longer shag that says "rock star." Consider having your stylist use a razor to shape the ends for an even more dramatic look.
The Rachel
As proof that the shaggy haircut has changed with the times, see Exhibit A: "The Rachel." Named after the character Rachel Green on the 1990's sitcom "Friends," this medium-length cut featured face-framing layers, and fullness at the crown. You can also take a cue from "The Rachel" and have your stylist add highlights to accent the shorter layers around your face. Although at this time the shaggy haircut was 20-plus years old, "The Rachel" proved that this sassy, low-maintenance look can change with the times.