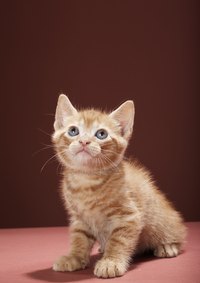 Clumping litter is an increasingly popular choice for cat owners because it is so easy to maintain. Cats like it, too, because of its soft, fine texture. However, some cat owners and/or breeders have found that kittens are prone to swallow the clumps, or track bits of it on their paws. The litter gets into their digestive system when they lick their paws to clean themselves. Scientific studies that could definitively confirm this have not been done, but if you prefer not to take a chance on the health of your kitten, there are plenty of other litter choices.
Clay Litter
Clumping litter is one type of clay litter. There are nonclumping varieties as well, but they, too, come with health risks for kittens. Clay litter easily sticks to kittens' paws even if it does not clump, and the clay creates dust which can lead to respiratory problems. Of course, eating litter and breathing in the dust is not ideal for a cat at any age, but the more mature digestive and respiratory systems of older kittens and cats can better handle small amounts of dust and ingested litter.

Biodegradable Litter
Pine, corn, and wheat litter are all biodegradable and do not create dust. All three are safe for kittens to use, although there is one caveat with corn or wheat litter: Before using it, ask your vet to rule out the possibility that your kitten is allergic to wheat or corn. Most pine litter is made from pine shavings, which means that trees are not cut down to make the litter.
Crystal Litter
Crystal litter produces more dust than pine, corn, or wheat litter, which produce no dust, but much less than clay litter does. Crystal litter is economical because it lasts longer than other kinds of litter, and it does not get soggy or heavy when wet. On the minus side, there is some evidence that silica (which crystal litter contains) is carcinogenic to humans, according to a study accepted in April 1999 by "The Annals of Occupational Hygiene" journal. Although no studies have been done on cats or kittens, keep this potential risk in mind.
Scented and Color-Changing Litter
You can buy litter that changes color in response to chemical changes in a kitten's urine. In addition to being expensive, though, it can lull you into a false sense of security about your kitten's health. Color-changing litter is a handy tool if you can afford it, but home diagnosis is inaccurate, and does not substitute for regular visits to the vet.

Litter Formulated for Kittens
You can buy litter that is specially made for kittens. You can still scoop it, but the litter grains are smaller, and are much gentler on your kitten's digestive system if your kitten should swallow some. Also, this kind of litter produces less dust, and is safe for the environment. The catch is the cost -- it's significantly more expensive than other types of clay litter.
Final Caveats
Kittens are usually weaned when they are 8 weeks old. It's risky for the kitten's future health and well-being to separate it from its mother sooner than that. When you bring your kitten home and introduce it to the litter box, make sure the litter level is high enough for your kitten to bury her feces, but not so high that she sinks into it. Aside from being scary for the kitten, too much litter makes it easier for your kitten to get the litter in her mouth.