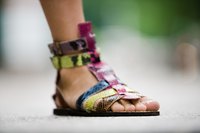 Based on the sandals selections prominent among women, one thing is clear: sexy reigns over solace -- physical solace, that is. Between strapless and strappy, daytime and evening, city and leisure, colored and transparent or high-heeled and flat, women can easily find fashionable comfort in a wide array of breezy footwear. But keeping their feet comfortable in those sandals may often be an enduring, and even uphill, battle.
Plan the Journey
"Go where you know and know where you go," according to a proverb. In terms of finding the most comfortable sandals, women would do well to think first about where they will go and how they define "walking." Is walking an evening stroll along a paved path near the riverfront? Or is it a day's worth of walking on cobblestone streets in a European city? The most comfortable and appropriate sandal largely depends on what surface you will be walking on and for how long.
Personal Details to Consider
Everyone's feet are different, so much of your comfort depends on catering to your own feet. But as a rule, purchase sandals a half-size larger than what you would normally get, if you will be walking a longer distance. This will prevent your sandals from cramping your swelling feet. If you want to be even more sure that you get the size right, go sandal shopping after you have been walking outside or around the mall for an entire morning. Your feet will probably have swelled to a degree similar to what you will experience later. Buy whichever pair feels most comfortable.
Sandal Styles
Bare-heeled sandals are the most comfortable, especially when compared with their high-heeled counterparts. If you do choose a high-heeled sandal, getting a pair that is a half-size larger than your size will provide you with more comfort. And if you go for strappy sandals, purchase a pair that is a bit wider so that your feet have a little more room to swell and breathe. Author Letitia Baldrige, in her book "Letitia Baldrige's New Manners for New Times," says that women in the workplace must not feel that they should sacrifice comfort for style by wearing stiletto-heeled sandals. In fact, wearing an uncomfortable shoe may give the impression that you have poor judgment.
Favored Brands
The Birkenstock sandal, while perhaps not a fashion favorite in some women's eyes, has become a crowd pleaser in terms of comfort. They were first made in Germany, so they are a fitting and popular choice for the traveler walking around Europe. The company Arizona makes Birkenstock sandals that have padded soles and were designed originally for diabetics. In tropical climates, such as those found in Mexico, the "San Miguel"-style sandal has given women a pleasing balance between style and comfort. Additionally, many women walkers have spoken favorably of the Dansko and Mephisto sandal brands.