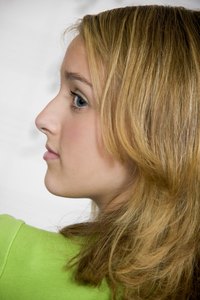 The morning rush to school is hectic enough without having to worry about styling your hair. Moreover, you shouldn't have to suffer through a bad hair day just because you were not aware of the many cute and quick ways to style layered locks. As always, be mindful of your hair type and face shape before getting a layered cut.
Short Layers
As the pixie haircut has taken the world by storm, this short layered cut can still be styled in a few ways. Combed all to one side or pinned with a jeweled barrette will evoke an elegant appearance. For a messier yet cute look, opt for a roll-out-of-bed style by applying some hair cream and tousling the hair with your fingers. You may also use a light hair gel to lift the hair up and back, away from the face for a gravity-defying style.
Longer Locks
Layered hair brings out a voluminous and textured ponytail, regardless if your hair is curly or straight. Allow the hair to cascade from a high ponytail or tie a low ponytail, leaving a few strands of face-framing layers in front. A loose braid is another cute way to show off the layers as the ends of shorter layers will peek out at various parts of the braid.
Changing the Part
Sometimes all you need to change a hairstyle is a slight change in the part. Layered hair allows for an easier transition as the layers blend well, rather than creating a look where one side is too heavy and the other side, too sparse. Either allow for volume on the top or keep it in check with a sturdy headband.
When in Doubt
The quickest updo is a messy bun, which is ideal for layered hair. Twist the hair and tie it up in a loose bun with the ends sticking out. Fluff the bun with the tips of your fingers to create more of a messy look. Either leave face-framing layers in front or secure them back with a bobby pin.