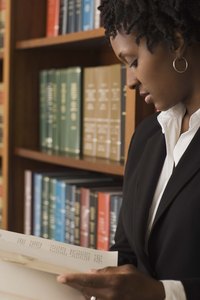 Biotechnology patent lawyers can make considerable salaries. These law specialists protect and defend the intellectual property of biotech companies. Biotech lawyers undergo years of training and many come from technical backgrounds. The largest salaries for these patent attorneys come from large biotech companies and from successful specialist law firms. Additionally, advancements in the scientific and medical fields will continue to spur the demand for these intellectual property defenders.
Job Description
Biotech patent attorneys work with all types of intellectual property. They can protect company trademarks like logos and slogans as well as design rights for inventions such as a retooled printer that can print living tissue. This legal protection offers their biotech clients a competitive advantage. Patents will prohibit similar processes for a give period of time. As such, biotech companies shell out large dollar amounts to ensure their intellectual property is properly defended.
Low-Range Salary Factors
Salaries for biotech attorneys can vary dramatically. The primary factors for this variance include experience and rank. A lower-end salary for a newly graduated biotech attorney starting with a medium-sized law firm could be $125,000, according to Brown University at the time of publication. Additionally, a prospective biotech attorney's academic record as well as the law school they attended may significantly affect their starting salary.
High Range Salary Factors
Senior biotechnology patent lawyers can command significant salaries. The influencing factors for the higher-range salaries include size of company, reputation and seniority. Biotech attorneys who have successful track records, vast industry experience and have attained partner status at notable patent law firms could make one million dollars annually, according to Brown University at the time of publication.
Salary Forecast
The demand for biotechnology patent lawyers is strong. The employment of lawyers is expected to grow 13 percent between 2008 and 2018, according to 2010 data from the Bureau of Labor Statistics. However, competition for these positions is heavy due to the healthy compensation packages associated. As biotech companies continue to transform scientific breakthroughs into commercial products and processes, the salaries for biotech patent attorneys will rise commensurately.