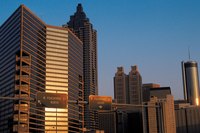 The state of Georgia has an income tax administered by the Georgia Department of Revenue. State law provides that the computation of taxable income shall follow applicable federal rules as set out by the Internal Revenue Service. This provision includes the tax treatment of debt cancellation, also called debt forgiveness.
Cancelled Debt Taxation
In most circumstances, money received by a person from a loan is not considered income for tax purposes. However, if all or part of that debt is canceled by the lender, then that amount of money is considered taxable income. For example, if the debtor borrows $5,000 and subsequently the lender cancels $3,000 of the loan, then that $3,000 becomes taxable income in the year of the debt cancellation. IRS regulations require a lender who cancels $600 or more of a debt to report it as income for the debtor.
Non-Taxable Exceptions
The IRS regulations provide for some exceptions to the debt cancellation as taxable income rule. Any outstanding debts canceled through a bankruptcy discharge are not taxable. If the debtor can show he was financially insolvent at the time of the debt cancellation, the exception will apply. Any debts canceled from a non-recourse type of loan are excepted. A non-recourse debt is where the lender can only repossess or foreclose, but not sue the debtor for monetary payment. A very important and special exception is for qualified mortgage debt cancellation.
Mortgage Debt Act
The federal Mortgage Debt Relief Act of 2007 created a special exception for debt canceled related to a residential mortgage. This applies to mortgage debt cancellation following a foreclosure or a restructuring or modification of the mortgage. The mortgage involved is restricted to a $2,000,000 loan balance maximum for married couples. The mortgage must be against the taxpayer's primary residence and the mortgage loan proceeds had to be used for the purchase, construction or substantial improvement of that home. A mortgage for a secondary or vacation home is not qualified nor is a mortgage for a commercial property.
Other Provisions
The exception provided by the Act is available to the end of the 2012 tax year, but can be extended by Congress. The IRS considers a primary residence to be the home that the taxpayer lives in most of the time and there can only be one such residence at any given time. Certain types of government student loan debt cancellation are also excepted, providing the borrower repays in a non-monetary fashion, such as by doing public service employment.