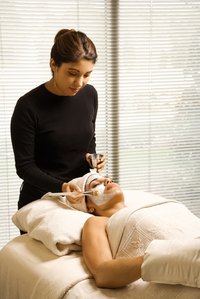 A good spa manager is a great help to any spa owner. The manager faces the daily task of supervising and disciplining spa staff, and dealing with angry customers. The manager keeps the spa clean and operating efficiently, and is also a big part of the personality of the business, which is what keeps the customers coming back. To keep a manager happy and performing at her best, the spa owner must provide attractive incentives.
Base Pay
The average annual pay for staff in the personal care industry runs from minimum wage to approximately $20 per hour, with top hairstylists and barbers commanding the highest wages and cosmetologists and other personal service providers receiving lower wages. For a full-time employee, this approximates $17,000 to $40,000 in annual pay. Managers' compensation generally contains bonus and override provisions, resulting in higher total compensation, particularly for a med-spa where compensation can range beyond $50,000.
Bonus
Most spa managers also perform spa services, but have additional responsibilities such as managing operations, supervising staff and marketing the spa to prospective customers. If a manager devotes 75 percent of her time performing spa services and 25 percent of her time managing the salon, she should receive a higher pay for her management hours. In addition, an incentive bonus for a manager is normally figured on the amount of revenues above the monthly target. A standard bonus is 20 percent of revenues more than the target amount.
Override
Another incentive for managers is a management override. The manager receives 5 percent of the total commissions or sales generated by the staff, in addition to her base pay. If the manager receives an override, bonus incentives are generally based on year-over-year accomplishments. An override is an effective management incentive tool because it provides a daily incentive to produce more sales.
Creative Incentives
More money is not always the best incentive to constantly improve performance. Small, frequent rewards such as extra time off, educational opportunities such as management skills or marketing training, theater tickets, free products and, of course, sincere praise from the owner of the spa are all highly effective in keeping managers enthusiastic about building more profitable business — particularly during difficult economic times.