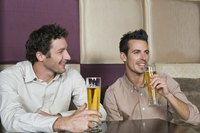 Fun games draw business to your tavern, pub or bar. The ideal tavern game costs little money to execute, but yields substantial returns in profits, publicity and customer satisfaction. Games do not have to be convoluted or complicated to make a big impact on your business; the easier the rules, the more easily your customers can follow along while patronizing your bar.
Trivia Night
Trivia nights are growing in popularity among many bars and pubs. Host a night where the trivia centers around a local sports team before a big game; patrons will come early for the trivia and stay to watch the game, leading you to increased profits and visibility. When selecting questions, choose varying levels of difficulty, since players will lose interest if it's too easy and give up if it's too hard. Let teams register prior to the competition. Offer prizes like free drinks, trivia-themed apparel or tickets to a local game.
Traditional Tournaments
Many taverns and pubs have pool tables and dartboards. Capitalize on the equipment you already own and turn it into additional profit. Pool and dart tournaments are successful if you market them sufficiently, as is a "Hall of Fame" for those who hit a certain number of bullseyes or shoot the perfect game of pool. Giving patrons a goal encourages them to linger at the bar longer than they intended, which results in an increase in beverage sales.
Board Games and Beer
Checkers and chess aren't just for afternoons in the park anymore; board games are a quirky and nostalgic way to bring business to a bar. Keep a selection of board games and card decks stashed beneath the bar, and create a menu of cocktails to pair with each game. A Candyland game menu might include German chocolate cake shots and lemonade spiked with red licorice-flavored vodka, while a Risk menu can spotlight international drinks like Russian vodka and French champagne. Patrons can borrow games for their individual parties, or you can host a game tournament once a week to woo new customers.
Scavenger Hunt
There is strength in numbers, and banding together with nearby taverns or pubs can lead to increased business for everyone. Put together a sheet listing all the participating pubs and require that each player get a stamp from each bar with the purchase of a beverage. You could also require that players bring back cocktail napkins, business cards or other treasures to prove their visit to each bar. Offer a coupon or other incentive to reward customers who successfully complete their scavenger hunts; this congratulates them and encourages players to return to your bar for future entertainment.