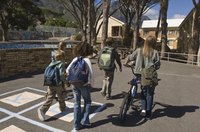 The Constitution of the United States provides for a census of the American people every 10 years. Originally, the census provided the data needed to apportion taxes among the states and determine the number of representatives each state could send to the House. Today, the U.S. Census Bureau provides data used by local governments, individuals researching their family trees and by government agencies to monitor economic trends. Census enumerators, also called field representatives, are federal employees whose salaries are determined by the U.S. Office of Personnel Management.
About Federal Salaries
The OPM assigns a pay grade, or series of pay grades, to each federal job. The General Schedule is a table listing all 15 pay grades; within each grade, 10 pay steps allow employees to earn wage increases. The OPM reviews annual survey information from the Bureau of Labor Statistics for jobs with similar requirements and establishes an appropriate base pay table. To account for the difference in the cost of living in certain areas, the OPM then increases the base pay by a percentage, ranging from 11.01 percent to 35.15 percent, for 33 geographic locations and the "rest of the U.S." Based on the OPM classification system, census enumerators may be grade 4 or grade 5 employees.
Base Pay
The base pay for a grade 4 census enumerator at step 1 was $24,518, according to the 2011 salary table published by the OPM. Each step resulted in an increase of $817, yielding annual salaries of $27,786 at step 5 and $31,871 at step 10. Grade 5, step 1 census enumerators received a base pay of $27,431. Step increases were $914, resulting in a salary of $31,087 at step 5 and $35,657 at step 10.
Sample Salaries Including Locality Pay – Grade 4
The lowest location payment was 11.01 percent for the state of Hawaii, according to the federal salary schedule for 2011. Grade 4 census enumerators in Hawaii earned a minimum of $27,217 and a maximum of $35,380 annually, with annual salaries at step 5 of $30,845. The highest locality adjustment was 35.15 percent for the San Francisco-Oakland-San Jose, California district. Grade 4 salaries in that district ranged between $33,136 and $43,074; at step 5, the salary was $37,553. For U.S. locations not covered by a separate locality payment, the pay adjustment was 14.16 percent, which resulted in a salary range of $27,990 to $36,384, and step 5 salaries of $31,720 annually.
Sample Salaries Including Locality Pay – Grade 5
Grade 5 census field representatives in Hawaii, for which the OPM reported an 11.01 location adjustment for 2011, earned $30,451 at step 1, $34,510 at step 5, and $39,583 at step 10. The highest salaries, after including the 35.15 percent locality payment, were found in the California district including San Francisco, Oakland and San Jose. The salary ranged from $37,073 to $48,190 annually, with step 5 salaries of $42,014. With the 14.16 percent adjustment for the "rest of U.S.," the step 1 salaries were $31,315, step 5 salaries were $35,489, and the step 10 salaries were $40,706.