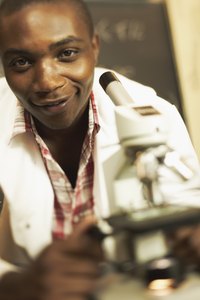 Neuroscience is a scientific discipline that focuses on the nervous system. It is traditionally considered a branch of biology, but it's also considered an interdisciplinary science that collaborates with the field of engineering. Bio-engineer neuroscientists combine biology, medicine and engineering to solve medical and health-related problems. Salaries range from around $50,000 to over $125,000.
National Average Salary and Hourly Data
The national average salary for biomedical engineers was $84,780 in 2010, as reported by the U.S. Bureau of Labor Statistics, and the national average hourly rate was $40.76. The median annual salary was $81,540, and the median hourly rate was $39.20 that year. The salary ranged from $49,690 on the low end to $126,900 on the high end, while the hourly rate ranged from $23.89 on the low end to $61.06 on the high end.
Earnings
According to the BLS, engineers as a group earn some of the highest starting salaries among professionals that hold a bachelor's degree. Bioengineering and biomedical engineers earned an estimated starting salary of $54,158 in 2009, according to a National Association of Colleges and Employers survey. In 2008, biomedical engineers earned a median wage of $77,400, and the salary ranged from $47,640 to $121,970.
Considerations
The salary for bio-engineer neuroscientists may vary by industry and geographical location, among other factors. Most bio-engineers are employed in the medical equipment and supplies manufacturing industry, according to the BLS, and earned an average salary of $83,740 in 2010. Those employed in the scientific research and development services industry earned an average salary of $93,930, one of the highest average salaries by industry. California had the most jobs for this occupation, with an estimated 3,820 in May 2010, according to the BLS, and earned an average salary of $95,450. Alaska was the top-paying state, with an average salary of $152,180.
Employment Outlook
The employed outlook for biomedical engineers is expected to increase by 72 percent between 2008 and 2018, much faster than the average growth rate for all occupations, the BLS reports. The growing focus on health issues and the aging population are projected to drive demand for more sophisticated equipment and medical devices, creating jobs for people in this field. Cost effectiveness in industries such as pharmaceutical manufacturing are also projected to boost demand.