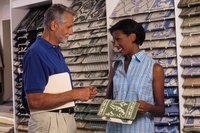 Carpeting is an integral element in homes around the world. Modern technology has allowed manufacturers to develop materials and manufacturing methods that offer more textures, colors, tones and hues of any other flooring material. Carpet is warm, quiet and relatively affordable. The Carpet and Rug Institute, an online resource for consumers and members of the carpet industry, reports that carpet covers approximately 70 percent of all the flooring used in the United States.
Job Description
Retail carpet and flooring salespersons assist customers in selecting the ideal carpet or flooring material for their needs and desires. They promote carpet sales by describing the carpet's features and value. Carpet salespersons conduct financial transactions, including receipt of payment or assisting the customer with a credit application. The salesperson takes measurements of the installation area and arranges for delivery and installation.
Income
The majority of carpet salespersons are paid a base salary and a commission based on carpet sales. The United States Department of Labor, Bureau of Labor Statistics reports median hourly wages of wage-and-salary retail salespersons, including commissions, were $9.86 in May 2008. The middle 50 percent of salespersons earned between $8.26 and $13.35 an hour. Workers in the lowest 10 percent earned less than $7.37, and the highest 10 percent earned more than $19.14 an hour.
Qualifications And Training
Carpet salespersons receive on the job training, learning about the unique qualities and characteristics of each carpet brand. Carpet sales and installation companies seek employees with a friendly, outgoing and personable demeanor and previous retail sales experience.
Employment Opportunity Outlook
Employment opportunities in retail sales is expected to grow due to the frequency of persons leaving the occupation. The BLS reports employment is anticipated to grow by 8 percent with about 374,700 new retail salesperson jobs expected through 2018. The growth in retail sales jobs is almost more than those anticipated in any other occupation.