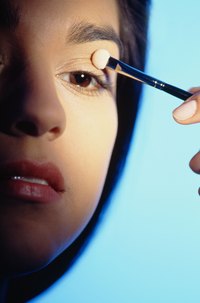 Cream eyeshadow creates sheer, elegant and romantic makeup looks, but choosing the right brush is essential for a long-lasting application. Avoid eyeshadow brushes that are fluffy or domed at the tip, as they will not properly pick up or deposit creamy pigments. Choosing a brush that is short, streamlined and synthetic will result in the perfect cream eyeshadow application.
Nylon Brush
A brush with synthetic nylon bristles maintains its rigidity when saturated with cream eyeshadow. Makeup artist Jemma Kidd recommends using a nylon brush with short, compact bristles and a blunt square edge for optimal coverage and control. Medium-length bristles might give a brush a more artistic feel and deposit a lighter wash of color, but may lack the manageability of shorter bristles. A short-bristled, square brush is best for applying cream eyeshadow over the entire eyelid.
Tapered Eyeliner Brush
With its extremely short bristles and tapered edge, an eyeliner brush transforms a cream eyeshadow into a soft, smudgy eyeliner. Dip the eyeliner brush into a pot of cream eyeshadow, thoroughly saturating the brush. Hold your hand in front of your face and bend your pinkie finger; you will notice a deep crease that follows the first major palm line below the base of the finger. Straighten your hand, place the bristles of the brush in the crease and bend your pinkie. With the finger bent, remove the brush from the crease. This will remove excess pigment and create the ideal edge for applying the cream shadow as an eyeliner.
Sponge-Tip Applicator
While most sponge-tip applicators that come with powder eyeshadows are ineffective for general makeup application, sponge-tip applicators can be useful for blending cream eyeshadow. Lightly glide the applicator around the edges of the eyeshadow to soften any harsh lines. Since the sponge will absorb the cream, use the sponge-tip applicator once per side, then throw it away to avoid transferring color over repeated uses.
Fingertips
The best brush to use with cream eyeshadow is easily within your reach. Using your fingertip as a cream eyeshadow brush delivers a wash of color and ample control, and fingertips can work fluidly over the contours of your face. Fingertips should not be used when applying cream eyeshadow to extremely oily lids, as the additional oils from your fingertips will seriously weaken your cream eyeshadow's staying power.