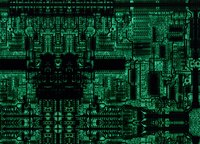 Computer science is a growing industry. According to the U.S. Bureau of Labor Statistics, demand for employees in the computer science industry is expected to grow by 24 percent between 2008 and 2018. Like many industries, there are several levels of formal education available for computer science, including a bachelor's and master's degree, and there are marked differences in salary.
Salary Difference
According to the National Science Foundation, computer scientists with a master's degree earned 25 percent more than computer scientists with a bachelor's degree. According to the U.S. Bureau of Labor Statistics, the average salary of a computer scientist as of May 2008 is $98,000. The top 10 percent earned $151,000, while the bottom 10 percent earned $58,000. O-Net reports that 80 percent of surveyed computer scientists held a master's degree, while only 2 percent had a bachelor's degree.
Reasoning for Salary Difference
As with most industries, the more education you have, the higher the salary you can command. Computer science is no different -- if anything, it is more cut and dried. The more education in computer science you have, the more knowledge you are perceived to have in the industry. Employers reward more knowledge and education with a higher salary. Although it is important to note that a computer scientist with a bachelor's degree and specialized or extensive experience can command as high a salary as a computer scientist with a master's degree.
Job Outlook
According to the U.S. Bureau of Labor Statistics, the outlook for computer scientists is expected to increase at a much higher than average rate between 2008 and 2018. This increase is attributed to an increase in demand for new computer technologies for both the hardware and software industries. A bachelor's degree in computer science will enjoy employment opportunities, but there is an even greater demand for computer scientists with a masters degree or higher.
Types of Jobs
Computer scientists are employed in a variety of industries, and in both the public and private sector. There is also a high demand for computer scientists in education. A computer scientist with a masters degree has a greater chance of landing management positions than one with a bachelors degree. This also holds true for educators. Colleges and universities generally require instructors to hold a master's degree of higher, but computer scientists in research need a bachelor's, but a higher degree is still required for advancement through the department.