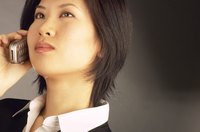 Information is the most valuable commodity on earth and people employ a wide variety of methods to mine for this data. The social sciences devote time and resources to collect information from human subjects and use a variety of methods to elicit responses. Researchers commonly use telephone interview surveys to collect information from subjects. Telephone interview surveys present both pros and cons for collecting data but they remain one of most effective tools available for gathering information from humans.
Accomodating Interview Schedules
One major advantage of using a telephone interview survey is that it allows for flexible interviewing schedules. Interview subjects can answer survey questions at their leisure, as opposed to other data-gathering models like focus groups where subjects must be physically present to participate. Advancements in telephone technologies have made telephone interview surveys even more flexible, as subjects are not bound by a landline connection or long-distance service limitations.
Data Organization
Telephone interview surveys also allow researchers to organize and store data in a rapid and efficient manner. Most large-scale telephone interview surveys are conducted by computer assisted telephone interviewing (CATI) systems. With this type of computer assistance, interviewers are able to record and collect interviewee responses together with other responses in a larger database. The information in this database can be manipulated, mined and arranged in a variety of ways to demonstrate statistical findings and trends that other forms of research cannot. This data collection system also allows for more-substantive responses and for clarification of responses to be recorded.
Scope of Reach
Telephone interview surveys possess the ability to reach a vast swath of the American public. With more than 96 percent of Americans possessing a telephone, telephone interviewers could potentially interview and gather information from virtually the entire country's population. Few -- if any -- social science research methods can match this scope of reach.
Disadvantages
While there are many clear advantages of using telephone interview surveys, there are also several drawbacks. Phone interview surveys may produce more-thorough results but they cost more to conduct than other surveys, such as web-based surveys. Collecting telephone numbers for potential interview participants can also be difficult and costly. In addition, participation is not guaranteed, as respondents can choose to hang up the phone or simply not answer. In addition, researchers at the University of Surrey suggest that interview responses over the phone are less complete than the responses gathered in face-to-face interviews.