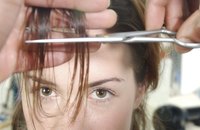 Becoming a hair stylist assistant is a great way to gain hands-on experience in the business of cosmetology. Becoming a hair stylist assistant is fairly simple and requires minimal experience, but the willingness to learn and the ability to learn quickly is important for this occupation. Stylists, who actually cut and color hair, are required in all states to be licensed, according to the U.S. Bureau of Labor Statistics.
Skills
Individuals interested in becoming hair stylist assistants need to have the proper skills and abilities to find employment. General required skills include conveying information effectively to clients and hair stylists, and actively looking for ways to assist hair stylist and clients. People who are shy and unassertive might not do well in this position. Assistants should also be good listeners, be able stand for long periods of time, be detail oriented and have good manual dexterity.
Knowledge
Hair stylist assistants should have general knowledge of customer service and personal services. Assistants should also be knowledgeable in the English language, though speaking multiple languages is a benefit, as assistants can communicate with a wider range of clients. Knowledge of methods for promoting and selling beauty products and services, including product demonstration, is also useful for this occupation.
Tasks
The job tasks for a hair stylist assistant position includes greeting and checking clients in, as well as administrative tasks, such as booking appointments and calling to advise clients of their upcoming appointments. Assistants also need to prepare clients for their services, which may include providing them with a robe or shampooing their hair. Restocking retail shelves and ringing up retail sales, as well as washing towels and tidying up around the salon, are also common hair stylist assistant tasks.
Education and Advancement
There are no specific education requirements to become a hair stylist assistant. Education levels vary for this occupation; high school students, college or beauty school interns, and aspiring hair stylists of all ages can become a hair stylist assistant. To advance to a hair stylist position, assistants need to attend cosmetology school and become licensed. Salon owners do not need to be licensed cosmetologists, but it is recommended to attain a strong understanding of the business.