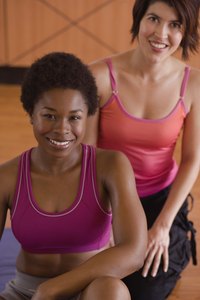 The YMCA requires various certifications to be employed as a trainer. YMCA trainers are responsible for providing exercise instruction to members of the club. They work with a diverse group of people, including youth, seniors and athletes. Some YMCA gyms require trainers to have certifications prior to employment, but certain certifications are allowed to be obtained up to six months after employment.
Nationally Recognized Personal Training Certification
There are several nationally recognized organizations, such as the National Academy of Sports Medicine and the American College of Sports Medicine, that issue personal training certifications. The certification process requires the trainer to study an at-home textbook and successfully complete an exam. A fee is required to take the test. The certification may also require the personal trainer to possess a current adult CPR certification before taking the exam. Certifications are typically valid for two years. Recertification is required if you do not possess a valid personal training certification at the time of submitting your employment application.
Special Certifications
You are required to maintain specific certifications in your specialty, depending on what type of training position you are applying for. The YMCA of Orange County in California, for example, requires health and wellness trainers to have the TRX Certification. TRX is a complete training system that includes a piece of exercise equipment for a full body workout. Swim trainers are expected to have lifeguard certification. Zumba instructors are required to obtain a YMCA group instructor certification. Yoga instructors may be required to have a valid national Yoga certification.
CPR and First Aid
As a trainer, you are required to know basic lifesaving skills, since you are providing instruction in a physical activity. In case an emergency situation arises, you will be equipped to help the member. Cardiopulmonary resuscitation (CPR) certification allows you to help keep oxygenated blood flowing to the brain and other vital organs until medical treatment is available to restore a normal heartbeat. In addition to CPR training, the YMCA may also require you to have a valid supplemental oxygen delivery (O2) and Automated External Defibrillator (AED) certification. An O2 certification allows you to use suction devices, as well as resuscitation mask and bag-value-mask resuscitators to deliver supplemental oxygen. AEDs are used on people suffering from cardiac arrest. AED training and certification is typically included with a CPR course.
Other Requirements
The YMCA requires a high school diploma or equivalent to apply for a training position. You must be 18 years of age or older. You may also be required to have a bachelor's degree in physical education, recreation, sports management, health education, or other related field. One to two years of experience working with people in the health field is preferred. You must have good communication and customer service skills to be able to instruct people on the physical aspects of your training regimen.