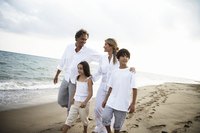 Buying a timeshare is like buying a vacation condominium. Instead of owning the property year-round, though, you pay for a specific time period, such as Thanksgiving week. Like a vacation home, owning a timeshare gives you a chance at some extra tax write-offs.
Mortgage Interest
If you took out a mortgage loan for your timeshare, the interest is potentially deductible. You have to comply with the standard mortgage-interest deduction rules, H&R Block says. For example, you can deduct interest only on your primary home and one vacation home: If you have two timeshares, you can claim interest on only one of them. The mortgage loan must be secured by your timeshare or by your primary home. To write off the interest, you have to itemize tax deductions on Schedule A instead of taking the standard deduction.
Maintenance Fees
Timeshares routinely charge maintenance fees for the developer to keep up the property. The Federal Trade Commission says these can rise faster than the rate of inflation. Unfortunately, the Red Week timeshare website says these fees are not deductible, any more than repairs on your home are. If the timeshare charges special assessments -- extra fees levied for major repairs or upgrades -- you can't take a deduction for those either.
Property Taxes
Counties levy property taxes based on the value of real estate, or to pay for roads and other projects that benefit the property owner. Value-based property taxes are deductible, but only if you itemize. Another restriction is that you have to pay the tax yourself. If the county bills the timeshare resort as a single property, you don't get a deduction. Unlike mortgage interest, you can deduct property tax on as many timeshares as you own.
Renting Out
If, instead of vacationing at the timeshare, you rent out your week, your expenses are deductible against rental income. That includes maintenance fees, property taxes and mortgage interest. A timeshare you rent out part of the time and use the rest is more complicated. The amount of expenses you can write off varies according to how much time goes to personal use, how much to business. IRS Publication 527 details how to apply the rules to your situation (see Resources).