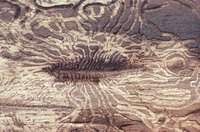 Some states in the United States require a residential home seller to give to a prospective buyer a Seller's Property Disclosure Statement (SPDS), which provides buyers with a detailed listing of all known damage present in the property at the time of sale. A seller does not have to give a buyer copies of termite reports if the inspector found no damage in the property. Homebuyers should contact their state attorney general's office or consumer protection board to determine if SPDS requirements exist in their state.
Requirements
In states that require termite damage disclosure, home sellers must disclose any known termite damage on the premises to a prospective buyer in writing and must attach supporting documentation, according to the Arizona Association of Realtors. The real estate transaction will not usually proceed if the seller does not provide a full disclosure of termite damage to the house, because state law will prohibit the transaction.
Warning
In states with few laws protecting home buyers, a buyer must perform his own due diligence before purchasing a property; this process includes obtaining his own termite report by an independent inspector. A seller does not have to disclose any reports in these states but cannot deliberately defraud a buyer into purchasing a damaged home.
Civil Action
If a buyer purchases a home without his own termite inspection and later finds out that the property has termite damage due to the seller not providing him with termite reports, he must prove in a local or state court of law that the seller knowingly defrauded him within the time window of his state's statute of limitations. Depending upon his state, he can usually recover the full amount of his damages, attorney fees and court costs from either the seller or any party who did not perform due diligence in obtaining the disclosure, such as a closing attorney, his real estate agent or the seller's real estate agent, according to the Pennsylvania Code.
Criminal Action
In some states that require disclosure, a buyer can press a criminal action against a seller who does not disclose damage to a home. Other states that require disclosure, such as Pennsylvania, only allow for civil penalties. The seller must usually obtain a benefit by not disclosing, forging or hiding information about termite damage in the property. For example, the state of Arizona may charge a seller who knowingly attempts to cover up termite damage with a class 2 felony that carries a sentence of up to five years in state prison, according to the Phillips Law Group.