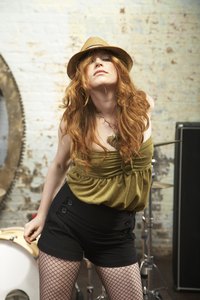 The world of fashion design is a fast-paced environment that many people find to be both appealing and enjoyable. If someone you know has a passion for fashion and an interest in design, you can help jump-start her hobby or, perhaps, career by giving her design-related gifts for birthdays, holidays and other special occasions. Aspiring designers need a lot of equipment, practice and learning opportunities in order to make it in the fashion world, and your gifts might be just what she needs to receive new inspiration.
Shows
Tickets to a fashion show are one of the most exciting gifts you can give an aspiring designer. Depending on where the person lives, he may get to travel to a new city and experience the world of fashion as he has never seen it before. In addition, being so close to the action allows him to meet many other people in the industry, make friends, ask questions, learn new ideas or even talk to famous designers or models. Tickets to many fashion shows in New York can be purchased for under $100 and you can purchase them directly from venues where the shows are located. If your budget is large enough, you can even take the person to fashion shows in a foreign country.
Books
Books about fashion design and biographies from famous designers are less expensive than tickets and trips to shows and still offer large amounts of useful information from which aspiring designers can learn. Not only that, but books are more accessible because most major bookstores have entire sections dedicated to fashion. Another advantage to giving someone a book about fashion design is that it can be exchanged or returned if they already have it or simply do not want it.
Gift Cards
Gift cards are often abused by those giving them and therefore unappreciated by recipients. However, if you do a little research, they can become the best gift you can give a fashion enthusiast. Rather than giving a card from a store you like, find out what type of fashion design your recipient likes. Fashion design is commonly separated into the categories of clothing, footwear and accessory design. Once you know what they particularly enjoy, learn what stores they usually shop at or find new stores that are similar to buy the card from. Depending on your budget, you can get a gift card from an expensive brand-name store, or from a more affordable store that the recipient likes. This will allow the person to create his or her own wardrobes and continue to develop an eye for ever-changing trends.
Sewing and Art Equipments
If the person you are buying for is a distant acquaintance, you may wish to keep your budget under a set amount. All aspiring designers constantly need supplies to practice with as new materials are needed for each project, so replenishing supplies can be the perfect gift to give. From thread to sketch pads to colored pencils and more, you can purchase multiple items from this category of gifts for fewer than five dollars. Of course, if the recipient is a close friend or relative, you may wish to purchase them expensive fabrics or even a new sewing machine.