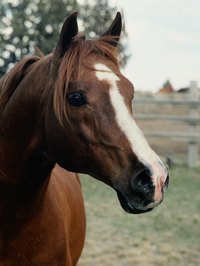 Approximately 59,700 veterinarians work in the United States, according to the Bureau of Labor Statistics. Many veterinarians choose a specialty of practice, such as dentistry. Equine dentists provide important services to keep horses healthy and are typically paid an annual salary significantly above the national income average.
Career Overview
Equine dentists are animal experts who help maintain and repair the teeth of horses. According to the Bureau of Labor Statistics, dentistry is one of 39 American Veterinary Medical Association specialties that are available to practicing veterinarians. Because horse teeth grow until the animal is 15 years old, equine dentists are often required to keep horses healthy and free of pain. Before they can specialize in equine dentistry, veterinarians in the United States must complete a doctoral program that includes four years of graduate-level study. Vets must also be certified by a state board in order to practice animal medicine.
Typical Salary
The BLS states that the median wage of all veterinarians, including those who specialize in dentistry, is $79,050 per year as of 2008. The bottom 10 percent of workers in this field receive under $46,610 a year while the top 10 percent earn over $143,660. Veterinarians who are employed by the federal government, as opposed to private practices, receive a median salary of $93,398 per year.
Income Variations
Several factors can influence the actual salary of a veterinarian who specializes in dentistry. The BLS indicates that vets who enter a year-long internship program after graduating from college tend to receive higher salaries than veterinarians without this experience. Additionally, the number of years a vet has been certified can impact earnings. The BLS reports that while the median wage for all veterinarians is $79,050, new professionals with limited experience typically begin with a starting salary of only $41,636.
Career Outlook
According to the BLS, income and job opportunities for all veterinarians are expected to grow quickly in the foreseeable future. Good career opportunities are expected in every specialty of this profession, including equine dentists. Specifically, the bureau predicts employment will grow by 33 percent between 2008 and 2018. The rate of expansion is much higher than the growth rate of most other occupations in the United States.