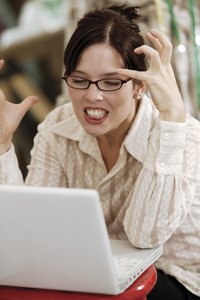 The general rule in Georgia is that you must lose a job through no fault of your own to receive unemployment benefits. Simply quitting a job because it's a bad fit, you don't enjoy it, or you don't like the people you work with, may prevent you from receiving benefits. However, there is a narrow description of a situation in which you can resign from a job in Georgia and still receive unemployment.
Compelling Reasons
Before quitting a job, make sure you can prove why you must leave. Under certain compelling circumstances, you may still be able to collect unemployment. For example, if your employer is asking you to perform a duty that could be hazardous to your health or is illegal, you may have cause to quit. If your employer refuses to allow you to wear necessary safety equipment or asks you to lie to cover up one of its mistakes, try to get proof.
Hostile Work Environment
It can be a challenge to prove that you worked in a environment so hostile that you were forced to quit, although doing so can help you collect unemployment benefits. If you are being threatened by a supervisor or coworker, sexually harassed, or called names, you may be able to make a case that you worked in a hostile work environment. Request the testimony of a fellow employee and produce notes and voice messages that you have received or tape recordings of actual conversations, if it is legal in your state to tape such conversations without the knowledge of the other party.
Breach of Employment Agreement
Even if you don't work under an employment contract, the tacit understanding when you take a job is that you are to be paid for any work you complete. If your employer fails to pay you, you may be able to argue that the employer breached the employment agreement and that you were forced to seek employment elsewhere.
No Assumptions
If you believe that you were forced to quit your job, apply for unemployment benefits. The only way to truly know if you're eligible is to file a claim. Remember to keep any records that bolster your case, in the event your claim is rejected and you need to file an appeal.
Upon Quitting
Don't sign anything your employer asks you to sign as you walk out the door. Even if the employer tells you that it will not release your final check until you've signed something, don't do it. If you believe that you were forced to quit, the last thing you want to do is to sign a form giving up your right to unemployment benefits. If you do read the document and find nothing objectionable in the wording, demand that the employer add a clause saying that it will not challenge your right to unemployment benefits. If the employer is willing to do so, get a signature on the document, as well.