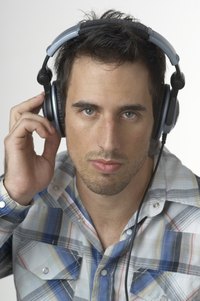 Radio shows can be syndicated in various ways, both regionally and nationally, and radio show hosts receive a wide range of salaries for their work. New media allows radio hosts to market — or attempt to market — their own shows through syndication, although the success rate is low. A locally successful show, even in a large market, is no guarantee of success on a regional or national level. Distribution through such media as Internet stations, podcasts or embedded websites can be a good first step in drawing national attention.
Education & Training
Syndicated radio show hosts generally follow one of two paths. Many receive formal training through degree programs or technical or vocational broadcast schools. Others move into radio broadcasting after, or during, another professional career such as an athlete, politician, businessman or technical expert on computers or automobile repair. Selling your own show requires additional marketing, business and usually computer acumen.
National Average Salaries
Despite astronomical salary figures received by nationally syndicated celebrity hosts like Rush Limbaugh and Howard Stern, most radio hosts don't make anywhere near such lofty figures. The Bureau of Labor Statistics reports a median salary of $26,850 for radio and television announcers, based on 2010 data. The 10th percentile salary is $16,590, and the 90th percentile salary is $72,500. The 25th to 75th percentile pay range is $19,150 to $41,610 a year. California and New York employ the most radio and TV announcers. California has 2,510 such workers earning an average salary of $57,150, while New York employs 2,230 radio and TV announcers at a mean salary of $59,560. The District of Columbia pays the highest wages in the United States — an average of $93,690 a year.
Rush Limbaugh
"The New York Times" reports that conservative talk show host Rush Limbaugh receives $50 million per year on a contract he signed in 2008. That represents a $14.4 million annual raise over his previous contract. The new deal is for $400 million through 2016. The contract is with Clear Channel Communications and its syndication subsidiary, Premiere Radio Networks. Limbaugh's audience is estimated at 20 million listeners per week, with an average of 3.5 million during any given 15-minute segment.
Glenn Beck
The same "New York Times" story said that Glenn Beck, the No. 3-ranked syndicated radio talk show host in the country, inked a contract in 2007 with Premiere Radio Networks worth $10 million a year through 2012. Beck, who hosted a TV talk show on Fox News Channel, launched an online TV/radio show in September 2011 after leaving Fox.
Howard Stern
A 2007 "New York Post" article estimated that Howard Stern's contract with uncensored radio outlet Sirius Satellite Radio was worth $700 million. That figure includes more than $220 million in stock. A 2010 story in "The New York Daily News" put Stern's salary at $400 million due to a loss in Sirius stock value but added that Stern claimed his salary wouldn't drop below $500 million.
Don Imus
Don Imus, host of "Imus in the Morning," signed a contract with Citadel Broadcasting in 2007 worth $5 million to $8 million a year, according to "The New York Observer." Imus was fired from CBS in 2007 following an on-air controversy in which he was accused of uttering a racial slur. His CBS deal was for $10 million annually.