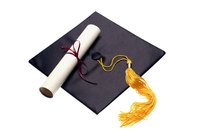 In the finance field, a Master of Science in computational or quantitative finance is a relatively common choice. This degree is necessary for careers that require an advanced financial education beyond a bachelor's degree, such as financial modeling and hedge funding.
Program Description
The master's in computational finance program generally takes around two years to complete. Students study financial theory, portfolio management, risk management, asset valuation, the calculus models behind trading securities, and the statistics and probability behind trading. The program also contains a great deal of computing; students create software and C++ is used in many of the courses, according to Carnegie Mellon.
Schools
A variety of schools offer a Master of Science degree in computational finance, or some variation of the program. Carnegie Mellon offers a full-time and part-time program at its Pittsburgh and New York campuses. It is also introducing an online program in fall 2012. Georgia Tech offers a Master of Science degree in quantitative and computational finance at its Atlanta campus. Students can complete the program either full time or part time, but the part-time program can take between 2 1/2 to four years or more to complete. Rutgers University offers a Master of Science degree in mathematical finance at its Camden, New Jersey campus. Each of the programs integrates financial theory and practical applications, but the computational finance programs tend to involve more computing and software creation.
Salary
Georgia Tech reports that as of 2011 graduates with a master's of science in computational and quantitative finance can expect to earn between $60,000 and more than $120,000 annually. Salaries vary by factors such as financial industry, location, student's skill and student's performance. Carnegie Mellon reports a similar range for its 2010 graduates. It also reports that as of 2010, the average salary for its graduates of the master's in computational finance program after three months was $87,602 per year.
Careers
Examples of jobs graduates from this program work in are in investment banks, hedge funds, asset management companies, financial software and data companies, insurance companies, operational risk management, asset valuation, and portfolio management. Rutgers also states that companies, such as Merck & Co., Morgan Stanley, Moody's, Numerix, R.G. Niederhoffer Capital Management, and Standard and Poor are among the employers of graduates from this program.