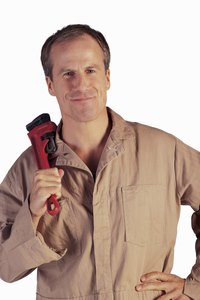 Trade schools train students to be skilled in a very particular trade or vocation, giving them skills in what is often considered blue-collar work, such as welding, hair styling or carpentry. Because these schools do not give a well-rounded liberal arts education, students are limited in their job opportunities. If they become proficient in a job that pays a good hourly wage -- such as eventually becoming a master plumber -- they can make wages that compete with some four-year degreed graduates.
Lowest Paying College Degrees
Trade school salaries fare well compared to the lowest-paying degrees for students graduating from traditional, four-year programs. A diesel mechanic -- the type of career for which one may go to a trade school -- earn about $20 per hour, with the top earners in this field making close to $30 per hour, for an annual salary of more than $60,000 per year. This compares favorably to college-educated social workers, who make comparable salaries at the top end of the pay scale. However, some social workers, depending on the type of work they do, have salaries hovering not much above $30,000, even at the mid-career stage.
Highest Paying College Degrees
Trade school earnings rarely keep up at the high end of the pay scale, where some college degrees are very well compensated. One of the highest-paying trade school jobs is plumber or pipefitter, requiring a very specialized education. Even this position tops out with highest earners making around $80,000 a year and the median making about $50,000. Though this is a satisfactory salary to many, compared to engineering, one of the highest-paying professional degrees, it is considerably lower. Even the lowest 10 percent of most types of engineers make around $50,000 and the highest earners make well in excess of $100,000 per year.
Earn Money Sooner
Technical schools frequently offer degrees after only two years, meaning that graduates of such programs are out and in the workforce earning paychecks by the time they are 20 years old, if they started college immediately following high school. Traditional college students must typically wait four years -- and sometimes longer – before they enter the workforce. Trade school vocations are more likely to be unionized jobs, offering young workers protections against stagnant wages and termination, something their college-educated counterparts rarely enjoy in office environments. In addition, trade schools have active placement programs and relationships with employers, helping students get jobs despite their relative young age.
Workforce Preparation
Graduates of trade schools have a very specific education that prepares them for work. Students graduating with a degree in diesel mechanics, for example, generally go directly into working on diesel engines, even if it is under the apprenticeship of a more experienced worker in that field. Students with a liberal arts education from a four-year institution have faced the disappointment of taking low-level jobs that have them making copies and doing other administrative work or working entirely out of their field.