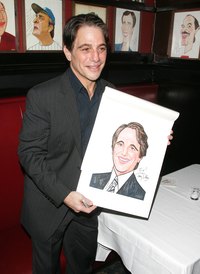 Everybody would like to get paid for doing something they love, but few people have the courage to chuck the day job and attempt to make a go of their passion. If you love to draw, or have always been attracted to the idea of making money out of art, it is possible to make a decent living working as a caricature artist.
Hone Your Art
Sign up for a drawing or painting course. While it's possible to find specialist caricature courses, life drawing or illustrating can help you develop the skills you need. Grant Pominville, a freelance caricaturist who has illustrated books by Jenny McCarthy and worked for FHM and Fox News, studied fine arts in Illustration at the Minneapolis College of Art and Design. Tom Richmond, a regular contributor to MAD magazine, says on his website that the skills learned while studying more traditional forms of art can help a caricaturist or cartoonist develop her drawing style.
On Location
If you want to start making money right away, set up a stall in a busy shopping area, a fair or somewhere that attracts a lot of tourists. Display the best examples of your previous work and produce a sign explaining your service and how much you charge. You'll need to seek the permission of the organization that owns the land you intend to set up on and contact your local licensing authority to inquire about any licenses you might need.
Satire
Start offering your work to political websites and traditional media outlets on a speculative basis if you'd like to work as a political cartoonist. If you're still in college, start drawing for your university's student newspaper. If you don't get any interest to begin with, set up a website to showcase your work.
Commissions
Advertise your services as a caricaturist online and in local business listings. You can take one-off commissions and appear at parties and gatherings to draw guests. Offer discounts to clients who buy more than one piece of work from you and commission to anybody who sends work your way. You should also consider setting up a deal with a group buying service to promote your offering.
International Society of Caricaturist Artists
Join the International Society of Caricaturist Artists. Although the society is a professional body for those currently working as caricaturists, associate and student memberships are available for artists who are just starting out. Membership will give you the opportunity to network with other caricaturists on the society's forums and attend the ISCA Annual Convention. You'll get access to Exaggerated Features, the society's periodical magazine.