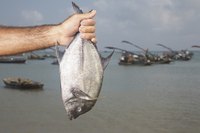 The eyes are one of the body's important organs that need protecting from the harsh rays of the sun. According to the United States Environmental Protection Agency, ultraviolet rays from the sun are harmful and can lead to skin cancer around the eyes, cataracts and other eye disorders. Sunglasses are protective wear for the eyes. One of the most confusing choices is between polarized and non-polarized glasses.
Polarized Glasses
Reflected light from surfaces, such as smooth water, is horizontally polarized, meaning the light travels in a horizontal direction rather than scattering in many different directions. This intensity creates a dangerous glare that can damage the eyes. Polarized lenses reduce this glare by blocking the intense reflected light with a special filter.
Non-Polarized Glasses
Non-polarized lenses are composed of colored glass that is inefficient for blocking out the glare of the sun. These sunglasses are useful for reducing the amount of light reaching the eyes, but they are not useful for protecting the eyes from the harsh rays of the sun. Low quality non-polarized lenses also distort vision and may cause eye fatigue for the wearer.
Polarized Glass Uses
Polarized glasses are ideal for most outdoor use and for certain outdoor activities such as boating, driving, fishing or visiting the beach. For boating and fishing, polarized lenses allow the wearer to see under the surface of the water. For driving, polarized lenses reduce the glare of any light reflecting from other vehicles as well as your own vehicle. When you are at the beach, polarized lenses reduces the glare from the light reflecting from the surf and sand.
Non-Polarized Glasses Uses
There are some instances when using non-polarized lenses is beneficial. During downhill skiing, polarized lenses make icy patches difficult to see, which causes a skier to be unaware of possible hazards he is approaching. Non-polarized lenses are also better for viewing liquid crystal displays, or LCDs. For outdoor activities, replace your polarized glasses with mirrored glasses and in all other instances, simply take off the polarized glasses.
Cost
Depending on the brand and style, polarized glasses generally cost more than non-polarized glasses; however, added protection for your eyes from the harsh rays of the sun is a worthwhile investment to some individuals.