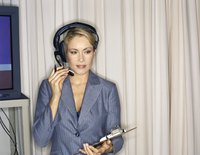 Video production managers play an integral role in the production of movies and videos. They work closely with producers and carry out many of the logistical details associated with production such as casting, equipment and travel plans. The Bureau of Labor Statistics (BLS) indicates that approximately 43,900 individuals made up the management side of the video and movie production industry. Salaries for those working as video production managers typically exceed the amount made by producers and directors.
Median Salary
Video production managers made a median wage of $51.17 per hour, as of May 2008, according to the BLS. This computes to an annual salary of approximately $106,433. This salary was significantly higher than the salary earned by producers and directors in the industry, who made a median wage of $41.32 per hour, or about $85,946 per year. It was also higher than the salary of general and operations managers in all other industries, who made $44.02 per hour, or $91,562 per year.
Employers
Despite the relatively high median salary reported by the BLS for video production managers throughout the industry, a number of online job posts reveal that they can earn substantially less. For example, the Ohio Hiring Management System indicates that video production managers made an average rate of pay ranging from $25.40 to $33.16 per hour, or approximately 52,832 to $68,973 per year as of 2011. Video production managers working for Zepter International could expect to make between $68,000 and $73,000 per year as of 2011, according to GlassDoor.com.
Qualifications
The qualifications of a video production manager tend to vary significantly by employer in the same way that salaries do. The BLS indicates that managers in this industry usually have a bachelor's degree in a liberal arts field or in business administration. Video production managers need to have a basic grasp of human resources management, budgeting and logistics to be able to carry out the coordination of the production effort.
Job Outlook
The job forecast for those working in the motion picture and movie industry appears favorable, based on the projections made by the BLS for the period from 2008 to 2018. The bureau indicates that the number of jobs in this industry will grow by about 14 percen, which represents above average job growth compared to other professions. In particular, the bureau notes that demand for American made movies and videos will grow throughout the world.